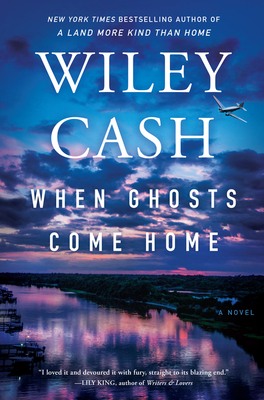 When Ghosts Come Home
A Novel
Hardcover

* Individual store prices may vary.
Other Editions of This Title:
Paperback, Large Print (9/21/2021)
Description
The eagerly awaited novel from the New York Times bestselling author of A Land More Kind Than Home, a tender and haunting story of a father and daughter, crime and forgiveness, race and memory

When the roar of a low-flying plane awakens him in the middle of the night, Sheriff Winston Barnes knows something strange is happening at the nearby airfield on the coast of North Carolina. But nothing can prepare him for what he finds: a large airplane has crash-landed and is now sitting sideways on the runway, and there are no signs of a pilot or cargo. When the body of a local man is discovered—shot dead and lying on the grass near the crash site—Winston begins a murder investigation that will change the course of his life and the fate of the community that he has sworn to protect.
Everyone is a suspect, including the dead man. As rumors and accusations fly, long-simmering racial tensions explode overnight, and Winston, whose own tragic past has followed him like a ghost, must do his duty while facing the painful repercussions of old decisions. Winston also knows that his days as sheriff may be numbered. He's up for re-election against a corrupt and well-connected challenger, and his deputies are choosing sides. As if these events weren't troubling enough, he must finally confront his daughter Colleen, who has come home grieving a shattering loss she cannot fully articulate.
As the suspense builds and this compelling mystery unfolds, Wiley Cash delves deep into the hearts of these richly drawn, achingly sympathetic characters to reveal the nobility of an ordinary man struggling amidst terrifying, extraordinary circumstances. 
Praise For When Ghosts Come Home: A Novel…
 "A treatise on race in America wrapped in a family drama wrapped in a mystery, it brings us a thoughtful examination of a good man's struggle to do right under trying circumstances. Cash puts his whole heart on the page with these flawed, true characters, and the reward is ours."
— Therese Anne Fowler, author of Z: A Novel of Zelda Fitzgerald

"A fascinating, nuanced meditation on life - both the living of it and the taking of it - in the crucible of small town America.  Wiley Cash is our guide through this maze of old secrets and fresh hurts. Take his hand, follow his lead and face the truth."
— S.A. Cosby, author of Blacktop Wasteland

"When Ghosts Come Home is a gripping mystery as complex and layered as the characters who inhabit it. Set in 1984, Wiley Cash's exploration of race, justice, and grief – of the fault lines that rip apart families and communities – could not be more timely."
— Lou Berney, author of November Road

"Wiley Cash's latest is an unputdownable knock-out: written in deft, thrilling prose, this book is both a gripping murder mystery and a thoughtful exploration of systemic racism in America. The perfect novel for our present moment."
— Lauren Wilkinson, author of American Spy

"A brilliant portrait of how we arrived at the present, exploring race, class, greed, and how close we've always been to both the dangers that never hid themselves and the dangers we didn't see coming. This breathtaking story offers insight, heartbreak, and grace in equal measure."
— Danielle Evans, author of The Office of Historical Corrections

"Wiley Cash has written a suspenseful, yet heart-tugging novel about community, duty, loss, racial divides, family and love. When Ghosts Come Home is a compassionate and timely gem."
— De'Shawn Charles Winslow, author of In West Mills

"This book will knock your socks off. It's so good to read a first novel that sings with talent. Wiley Cash has a beautifully written hit on his hands."
— Clyde Edgerton, author of The Night Train

"A riveting story! The writing is bold, daring, graceful, and engrossing."
— Bobbie Ann Mason, author of In Country

"I try to state the truth and dislike flinging superlatives about with mad abandon, but I have been so deeply impressed by this novel that only superlatives can convey the tenor of my thought: this is one of the most powerful novels I have ever read."
— Fred Chappell, author of Brighten the Corner Where You Are

"Whew! Wiley Cash is the real deal and his first novel is an atmospheric crossroads filled with characters who long for better, but know that their best will never be good enough, is dense with stories intersecting like the branches in a laurel hell."
— Nancy Peacock, author of Life Without Water

"Cinematic and symphonic: this is a compelling story revealed in a sequence of voices that are as pitch-perfect as they are irresistible. This is a wonderfully impressive debut: tender, muscled and unforgettable."
— Rikki Ducornet, author of The Fan Maker's Inquisition

"As lyrical, beautiful, and uncomplicated as the classic ballads of Appalachia, Cash's first novel is a tragic story of misplaced faith and love gone wrong . . . In a style reminiscent of Tom Franklin and John Hart, Cash captures the reader's imagination."
— Library Journal (starred review)

"Wiley Cash makes his debut with this fine, engaging novel, proving yet again that the South is an inexhaustible motherlode of literature. I'm sure he'll garner comparisons to Harper Lee, perhaps even to Faulkner or Flannery O'Connor, but Wiley Cash is Wiley Cash—a new, strong Southern voice in American fiction."
— John Lawton, author of A Lily of the Field

"Absorbing . . . Cash uses well-placed flashbacks to flesh out his characters . . . and to illuminate a familiar truth of Southern lit: Many are the ways that fathers fail their sons."
— Entertainment Weekly

"Wiley Cash's novel embeds a tender coming-of-age story within a suspense-filled thriller. . . . [A] clear-sighted, graceful debut."
— Atlanta Journal-Constitution

"Cash adeptly captures the rhythms of Appalachian speech, narrating his atmospheric novel in the voices of three characters . . . The story has elements of a thriller, but Cash is ultimately interested in how unscrupulous individuals can bend decent people to their own dark ends."
— Washington Post

"Mesmerizing . . . only Jess knows why his autistic older brother died on the very day he was taken into the church, and it's his voice that we carry away from this intensely felt and beautifully told story."
— New York Times Book Review

"So beautifully written that you'll be torn about how fast to read it. This is great, gothic Southern fiction."
— NPR

"Darkly mesmerizing."
— O Magazine

"This Dark Road to Mercy will stick in readers' minds, especially Cash's heroine, feisty, red-haired and freckled Easter, who joins Scout and Kaye Gibbons' Ellen Foster in the pantheon of Southern kids in literature."
— Wilmington Star News

"Exciting and suspenseful as well as moving, with a captivating heroine, this is a tremendous book."
— The Guardian
William Morrow, 9780062312662, 304pp.
Publication Date: September 21, 2021
About the Author
Wiley Cash is the New York Times bestselling author of A Land More Kind Than Home, the acclaimed This Dark Road to Mercy, and most recently The Last Ballad. He won the SIBA Book Award and the Conroy Legacy Award, was a finalist for the PEN/Robert W. Bingham Prize and the Edgar Allan Poe Award for Best Novel, and has been nominated for many more. A native of North Carolina, he is the Alumni Author-in-Residence at the University of North Carolina Asheville. He lives in Wilmington, NC with his wife, photographer Mallory Cash, and their two daughters.