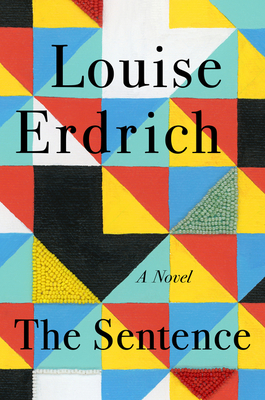 The Sentence
Hardcover

* Individual store prices may vary.
Other Editions of This Title:
Paperback, Large Print (11/9/2021)
Description
In this powerful and timely novel, National Book Award winning author Louise Erdrich explores how the burdens of history, and especially identity, appropriation, exploitation, and violence done to human beings in the name of justice, manifest in ordinary lives today.
Revolving around a small independent bookstore in contemporary Minneapolis, The Sentence follows a turbulent year in the life of a strong though vulnerable Ojibwe woman named Tookie. 
After serving part of an outrageously long sentence, Tookie, who "learned to read with murderous attention" while in prison, naturally gravitates toward working at a bookstore. There she joins a dedicated community of artists and book lovers and begins to build a new life for herself. 
When Flora, the store's most persistent customer, suddenly dies, her ghost refuses to leave. Flora returns on All Soul's Day to haunt the bookstore and in particular, Tookie. Why? The mystery of this revenant's appearance leads Asema, a fellow Ojibwe bookseller, and Tookie to a shocking personal discovery with historical reverberations. Tookie finds that this year of disease, violence, and political upheaval is, on a worldwide scale, a year of ghosts and hauntings. 
A complicated love finds Tookie as well when Pollux, who has been in love with her for years, proposes, and they marry. Pollux was the tribal police officer who arrested Tookie all those years ago for a crime which turned out to be more serious than Tookie knew. How Pollux and Tookie overcome past betrayal and learn to trust each other is a challenge that will either deepen or destroy their love.
The Sentence begins on All Soul's Day 2019 and ends on All Soul's Day 2020. Its mystery and proliferating ghost stories during this one year propel a narrative as rich, emotional, and profound as anything Louise Erdrich has written. 
Praise For The Sentence…
"A magisterial epic that brings her power of witness to every page."
— New York Times Book Review on The Night Watchman

"Louise Erdrich rediscovers her genius. . . . This narrator's vision is more capacious, reaching out across a whole community in tender conversation with itself. "
— Washington Post on The Night Watchman

"The Night Watchman is a singular achievement even for this accomplished writer. . . Erdrich, like her grandfather, is a defender and raconteur of the lives of her people."
— O, the Oprah Magazine on The Night Watchman

"In powerfully spare and elegant prose, Erdrich depicts deeply relatable characters who may be poor but are richly connected to family, community and the Earth."
— USA Today on The Night Watchman

"Erdrich's newest novel thrills with luminous empathy."
— Boston Globe on The Night Watchman

 "Louise Erdrich is one of our era's most powerful literary voices. . . . In The Night Watchman Erdrich's blend of spirituality, gallows humor, and political resistance is at play. . . . It may be set in the 1950s, but the history it unearths and its themes of taking a stand against injustice are every bit as timely today."
— Christian Science Monitor on The Night Watchman

"No one can break your heart and fill it with light all in the same book — sometimes in the same paragraph — quite like Louise Erdrich."
— Tampa Bay Times on The Night Watchman
Harper, 9780062671127, 416pp.
Publication Date: November 9, 2021
About the Author
Louise Erdrich is the author of seventeen novels as well as volumes of poetry, children's books, short stories, and a memoir of early motherhood. Her novel The Round House won the National Book Award for Fiction. The Plague of Doves won the Anisfield-Wolf Book Award and was a finalist for the Pulitzer Prize, and her debut novel, Love Medicine, was the winner of the National Book Critics Circle Award. Erdrich has received the Library of Congress Prize in American Fiction, the prestigious PEN/Saul Bellow Award for Achievement in American Fiction, and the Dayton Literary Peace Prize. She lives in Minnesota with her daughters and is the owner of Birchbark Books, a small independent bookstore.
or
Not Currently Available for Direct Purchase