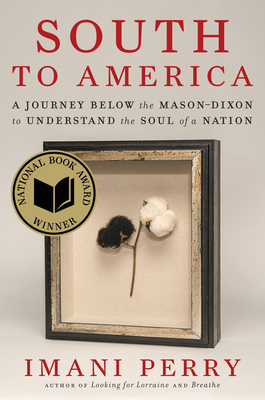 South to America
A Journey Below the Mason Dixon to Understand the Soul of a Nation
Hardcover

* Individual store prices may vary.
Other Editions of This Title:
Paperback, Large Print (1/25/2022)
Description
An essential journey through the American South—and the way it defines American identity—from one our most extraordinary writers on race and culture at work today  

We all think we know the South. Even those who have never lived there, who have never even been there, can rattle off a list of signifiers that define the South for them: Gone with the Wind, the Civil War, the Ku Klux Klan, cotillions, plantations, football, Jim Crow, and, of course, slavery. For those who live outside the region, the South is very much about the profound difference between "us" and "them." In South to America, Imani Perry shows in detail by infinitely careful detail that the meaning of American is inextricably linked with the South, and if we are American, we are all at least a little bit Southern.
In looking at the American South through a historic, personal, and anecdotal lens, Perry argues that the South is in fact the nation's heartland. The formation of our country, our wealth, and our politics have always pivoted around the resource-rich region. A native of Alabama but raised in the North, Perry returns to the South—the place she has always called home—traveling through its cities and their cultural formations, studying its historical figures and institutions and the natural settings from which they sprang. Seeing the South as familiar and anew, Perry goes on a journey that brings her in contact with Southerners from all walks of life. She renders them with sensitivity and honesty, in addition to sharing her thoughts about a troubling history and the ritual humiliations and joys that characterize so much of Southern life.
This is the story of a woman going home—a Black woman and a Southern home—at a time when ideas of how the South should be are rising once again. South to America is an assertion that if we do indeed want to build a more humane future for the United States, we must center our concern below the Mason-Dixon Line.  
Praise For South to America: A Journey Below the Mason Dixon to Understand the Soul of a Nation…
"Engaging, accomplished, and illuminating, Imani Perry is a Renaissance threat. Gifted in scholarship and fluid in her expression of complex ideas, she is already one of the nation's great public intellectuals and is poised in the coming years to rise even farther. It is given to few people to scale the peaks of the academy and of the public square, but Dr. Perry is one of those precious few. She's the best of best right now."
— Jon Meacham

Praise for Breathe
— ////

"Breathe is a parent's unflinching demand, born of inherited trauma and love, for her children's right simply to be possible."
— New York Times

"Breathe is what is says it is, a letter from a mother to her sons, but it is more than that. It's a meditation on child-rearing, world-building, fire-starting, and peace-building. Imani Perry combines rigor and heart, and the result is a magic mirror showing us who we are, how we got here, and who we may become."
— Tayari Jones, author of An American Marriage

"In Breathe, Perry offers a lyrical meditation that connects a painful, proud history of African American struggle with a clarion call for present-day action to protect, defend, and celebrate the promise of the next generation."
— Stacey Abrams, founder and chair of Fair Fight Action, Inc.

"Breathe: A Letter to My Sons is deeply cathartic and resonant for parents attempting to raise their children with intention and integrity. Imani Perry shows deep compassion for both parents and children while incisively underlining the realities of raising Black boys in a country that will inherently betray them. It is a book filled with love and insight for difficult times."
— Tarana Burke

Praise for Looking for Lorraine
— ////

"A masterly syntheses of research and analysis."
— New York Times Book Review

"Looking for Lorraine is phenomenal. I didn't know how hungry I was for this intimate portrait until now. It feels as though Ms. Hansberry has walked into my living room and sat down beside me. What an honor and joy to read this. The writing is whip-smart, yet lovely and clear-eyed. What gifts this book, Ms. Perry, and Lorraine Hansberry are to the world."
— Jacqueline Woodson, National Ambassador for Young People's Literature and National Book Award Winner for Brown Girl Dreaming

"This is one of those books you need to read. Lorraine Hansberry was so dear, so gifted, so black, so singular in so many ways, that to miss the story of her life is to miss a huge part of ours. She left us way too soon, and yet the gift of her presence, so briefly among us, is still felt in the art she left behind. But not only in the art, but in the life. A life at last made comprehensible by this loving, attentive, thoughtful book."
— Alice Walker
Ecco, 9780062977403, 336pp.
Publication Date: January 25, 2022
About the Author
Imani Perry is the Hughes-Rogers Professor of African American Studies at Princeton University. Perry is the author of Looking for Lorraine: The Radiant and Radical Life of Lorraine Hansberry, winner of the 2019 Bograd-Weld Biography Prize from the Pen America Foundation. She is also the author of Breathe: A Letter to My Sons; Vexy Thing: On Gender and Liberation; and May We Forever Stand: A History of the Black National Anthem. Perry, a native of Birmingham, Alabama, who grew up in Cambridge, Massachusetts, and Chicago, lives outside Philadelphia with her two sons.  
or
Not Currently Available for Direct Purchase