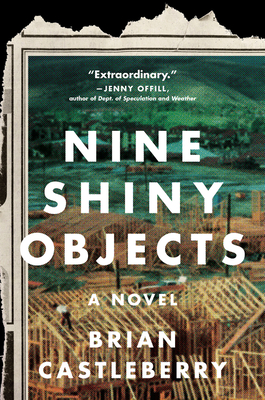 Nine Shiny Objects
A Novel
Paperback

* Individual store prices may vary.
Other Editions of This Title:
Hardcover (6/30/2020)
MP3 CD (6/30/2020)
Compact Disc (6/30/2020)
July 2020 Indie Next List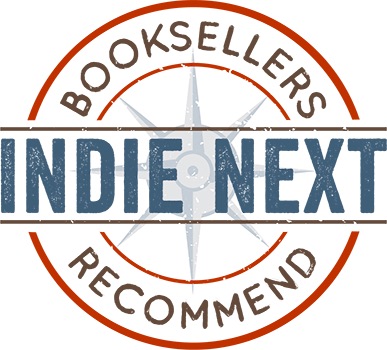 "This debut novel is a puzzle worth working out — don't give up! Castleberry cleverly entwines nine characters over 50 years — a tribute to America as we struggle to 'become enlightened' while at the same time understand those who reject new ideas. This book will make you think, work through the characters, and come out with a complex but beautiful story describing the American movement since 1947. Assume nothing about this book — or even its title. It's beautiful!"
— Kappy Kling, HearthFire Books, Evergreen, CO
View the List
Description
LONGLISTED FOR THE 2021 PEN/FAULKNER AWARD FOR FICTION
"In this extraordinary novel, Castleberry brilliantly hopscotches from person to person, from era to era, while somehow making all this fancy footwork look effortless and essential." - Jenny Offill, author of Department of Speculation and Weather
A luminous debut novel in the tradition of DeLillo and Egan, chronicling the eerily intersecting lives of a series of American dreamers whose unforeseen links reveal the divided heart of a haunted nation—and the battered grace that might lead to its salvation
June 26, 1947. Headlines across America report the sighting of nine pulsating lights flying over the Cascade Mountains at speeds surpassing any aircraft. In Chicago, inspired by the news, Oliver Danville, a failed actor now reduced to a mediocre pool hustler, hitchhikes west in a fever-dream quest for a possible sign from above that might illuminate his true calling. A chance encounter with Saul Penrod, an Idaho farmer, and his family sets in motion the birth of "the Seekers"—a collective of outcasts, interlopers, and idealists devoted to creating a society where divisions of race, ethnicity, and sexuality are a thing of the past. When Claudette Donen, a waitress on the lam from her suffocating family, encounters the group, she is compulsively drawn to Oliver's sister Eileen, but before she is able to join the enigmatic community, it has vanished.

Reunited across the country, the Seekers attempt to settle in the suburbs of Long Island. One night, their purpose suddenly revealed, a stranger emerges, and a horrific crime ensues. In the decades that follow, the perpetrators, survivors, and their children will be forced to face the consequences of what happened—a reckoning that will involve Charlie Ranagan, a traveling salesman; Max Felt, a dissolute late-1960s rock star; Alice Linwood, an increasingly paranoid radio host; Stanley West, a struggling African American poet; Marly Feldberg, a Greenwich Village painter; and Debbie Vasquez, a Connecticut teenager trapped by an avalanche of midnight legacies. Each will prove to be a piece of a puzzle that, when assembled, reveals a shocking truth about the clash between the optimism of those who seek inspiration from spacious skies, and the venom of others who relish the underworld—not only via conspiratorial maneuverings, but the literal unearthing of the dead. The result is one of the most exciting, and unforgettable, debut novels in recent memory, and the launch of a major career in American letters.
Praise For Nine Shiny Objects: A Novel…
"In this extraordinary novel, Castleberry brilliantly hopscotches from person to person, from era to era, while somehow making all this fancy footwork look effortless and essential."
— Jenny Offill, New York Times bestselling author of Department of Speculation and Weather

"Discovering the nature of the characters' associations and intersections across the chapters is one of the richest pleasures of the book. Another pleasure: the detailed portraits of 20th-century American life. Each chapter is a neatly packed and well-researched time capsule,...the close-clinging omniscient narration nimbly taking on the voices of each decade."
— New York Times Book Review

"Sharply-tuned, funny, satisfyingly strange, and preternaturally poised, unspooling in immaculate prose. Brian Castleberry has that rare, can't-be-taught ability to turn smoothly at any point in any direction, giving each sentence, no matter how casual, a quiet current of electric suspense."
— William Finnegan, Pulitzer Prize-winning author of Barbarian Days

"Impressive... Memorable characters inhabit a surprising, engaging story of American idealism and its dark opposite."
— Kirkus Reviews

"Scrappy and smart, intently observed and often darkly funny, these people navigate lives where everyday struggle and pleasure ride precariously on a deep undercurrent of menace."
— Chelsey Johnson, author of Stray City

"Castleberry proves very adept at altering each chapter's style and pacing to reflect the different personalities. Moreover, his evocation of each era is excitingly vibrant and authentic... These characters pop off the page, with one composite character—America herself—emerging brilliantly from the gestalt."
— Locus

"The truly shining objects are the nine stories that make up this gripping, shapeshifting novel. A debut out of this world."
— Hernan Diaz, author of In the Distance

"It's worth it to take your time and savor this one."
— BookPage

"Each character's chapter has its own voice, and swells with its own concerns, but they all crackle with tension and linger on loss....The perspectives overlap, but the composite leaves some questions unanswered, some connections intriguingly unrevealed....Castleberry's memorable tale probes fissures and anxieties that are undeniably current."
— Booklist

"When, in 1947, a Navy pilot reports that he's seen nine shiny objects flying over the Cascade Mountains, he sets off a chain reaction that affects nine characters, whose lives intersect in remarkable ways over the course of the following four decades. What Castleberry has written is not a novel about UFOs or cults or rock-and-roll but rather a literary saga that dauntlessly explores what it takes to believe."
— Rachel Beanland, author of Florence Adler Swims Forever

"Caroming across the changing American social and cultural landscape through the Cold War decades, Brian Castleberry's ambitious, shining novel explores the morphing vision of "America" from nine deeply felt, intricately connected perspectives. A timely book about our ideals, hopes, disillusionments, and their shadowy consequences, Nine Shiny Objects is a significant, daring debut that speaks keenly to our current times."
—  Asako Serizawa, author of Inheritors

"Castleberry has pulled off quite a feat. Nine Shiny Objects is an intricately plotted novel of big ideas that's driven by fully realized characters. I couldn't wait to turn the page, yet I wanted to linger in each chapter."
— Kelli Jo Ford, author of Crooked Hallelujah

"Marked by literary ambition. ... This is a story about how our individual histories follow us, about light versus dark, but also about our clouded perception of America—and how it continues to divide us."
— Elle

"A triumph. Author Brian Castleberry's ability to inhabit each character's mind, giving each distinct tics in their thought and speech patterns, makes their self-righteousness, confusion, guilt, and hope achingly legible. ... Hidden behind the facade of a book about UFOs is a novel about 20th century America, its flaws and its fears."
— Washington City Paper

"[Castleberry's] deft treatment of the past half-century of U.S. political and cultural history is by turns lively and absurd, violent and ecstatic, just as those times were. ... Suffused by mystery and melancholy, but also with occasional laugh-out-loud slapstick and "Twilight Zone" weirdness."
— Richmond Magazine

"Castleberry crafts a superlatively original tale that incorporates UFOs, government conspiracies, counterculture and hope in this delicately layered novel."
— The Ridgefield Press

"The depth and intricacy of the plotting is really something to see, connections on connections on connections that spider out from our titular objects in a manner that cleverly evokes the sorts of red-thread connection webs that we associate with conspiracy theory."
— The Maine Edge
Custom House, 9780062984418, 368pp.
Publication Date: August 17, 2021
About the Author
Brian Castleberry's stories have been published in The Southern Review, Day One, Narrative, and other literary journals. He lives in Virginia, where he teaches literature and creative writing at the College of William & Mary.