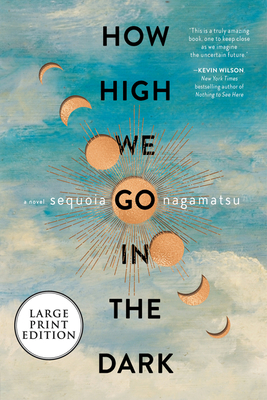 How High We Go in the Dark
A Novel
Paperback

* Individual store prices may vary.
Other Editions of This Title:
Hardcover (1/18/2022)
Description
For fans of Cloud Atlas and Station Eleven, a spellbinding and profoundly prescient debut that follows a cast of intricately linked characters over hundreds of years as humanity struggles to rebuild itself in the aftermath of a climate plague—a daring and deeply heartfelt work of mind-bending imagination from a singular new voice. 

Beginning in 2030, a grieving archeologist arrives in the Arctic Circle to continue the work of his recently deceased daughter at the Batagaika crater, where researchers are studying long-buried secrets now revealed in melting permafrost, including the perfectly preserved remains of a girl who appears to have died of an ancient virus.
Once unleashed, the Arctic Plague will reshape life on earth for generations to come, quickly traversing the globe, forcing humanity to devise a myriad of moving and inventive ways to embrace possibility in the face of tragedy. In a theme park designed for terminally ill children, a cynical employee falls in love with a mother desperate to hold on to her infected son. A heartbroken scientist searching for a cure finds a second chance at fatherhood when one of his test subjects—a pig—develops the capacity for human speech. A widowed painter and her teenaged granddaughter embark on a cosmic quest to locate a new home planet. 
From funerary skyscrapers to hotels for the dead to interstellar starships, Sequoia Nagamatsu takes readers on a wildly original and compassionate journey, spanning continents, centuries, and even celestial bodies to tell a story about the resiliency of the human spirit, our infinite capacity to dream, and the connective threads that tie us all together in the universe.
Praise For How High We Go in the Dark: A Novel…
"Sequoia Nagamatsu's universe is one in which modern Japan and its ancient folklore play in the same delightful puddle. Creepy, unnerving, and full of heart, these tales of love and demons, death and Godzilla, loss and possibility, will creep into your dreams and enchant your imagination."
— Kelly Luce, author of Three Scenarios in Which Hana Sasaki Grows a Tail, on Where We Go When All We Were Is Gone

"The stories in Where We Go When All We Are Is Gone make up a rich tangle of the familiar and beautifully new. These are bright inventions but they will also satisfy our longing for the stories we have always loved."
— Ramona Ausubel, author of A Guide to Being Born and Sons and Daughters of Ease and Plenty

"A combination of the mystical, magical, and marvelous, Sequoia Nagamatsu weaves a collection of bold, hysterical, and moving tales into an unforgettable debut. From shape-shifters, to star-makers, to babies made of snow, the characters in Where We Go When All We Were Is Gone form a community of longing, of the surreal, of wonder. What a joy it is to read each and every story."
— Michael Czyzniejewski, author of I Will Love You for the Rest of My Life: Breakup Stories

"[Nagamatsu] exposes a raw nerve running through most humans that we usually try not to think about. . . . [and] still leaves room for hope."
— The Rumpus on Where We Go When All We Were Is Gone

"Ghosts, Godzilla, shape shifters, sea creatures, snow babies; Sequoia Nagamatsu's fantastical characters are nonetheless grounded in modern-day conflicts, creating a fascinating and haunting mix of science and myth, past and present. These are stories of gods and monsters walking among us, told with wit, longing, and wisdom." 
— Timothy Schaffert, author of The Swan Gondola, on Where We Go When All We Were Is Gone

"Nagamatsu . . . writes with a confidence and inclusivity which show he has thoroughly explored the territory beyond realism. Readers may initially find themselves disoriented, but soon understand that this is the first step to discovering more about the world they already know, or thought they did."
— Colorado Review on Where We Go When All We Were Is Gone
HarperLuxe, 9780063211384, 352pp.
Publication Date: January 18, 2022
About the Author
Sequoia Nagamatsu is a Japanese-American writer and managing editor of Psychopomp Magazine, an online quarterly dedicated to innovative prose. Originally from Hawaii and the San Francisco Bay Area, he holds an MFA in Creative Writing from Southern Illinois University and a BA in Anthropology from Grinnell College. His work has appeared in such publications as Conjunctions, The Southern Review, ZYZZYVA, Fairy Tale Review, and Tin House. He is the author of the award-winning short story collection Where We Go When All We Were Is Gone and teaches creative writing at St. Olaf College and the Rainier Writing Workshop Low-Residency MFA program. He currently lives in Minnesota with his wife, cat, and a robot dog named Calvino.
or
Not Currently Available for Direct Purchase