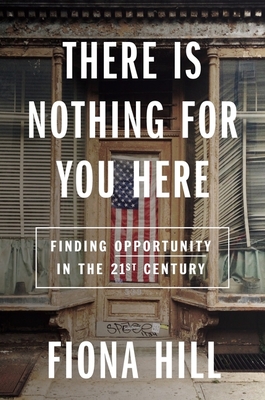 There Is Nothing for You Here
Finding Opportunity in the Twenty-First Century
Hardcover

* Individual store prices may vary.
Description
From the celebrated foreign policy expert and key witness in the first impeachment trial of President Donald Trump, an urgent warning that America is on the brink of a socioeconomic collapse that could rival modern Russia's—with attendant risks of populism and authoritarianism that have not vanished with the outgoing administration.

Growing up in England's coal-mining country, Fiona Hill knew that she was in a forgotten place. The last of the local mines had closed, businesses were shuttering, and despair was etched in the faces around her. Her father told her to get out—to go to London, or Europe, or America. "There is nothing for you here, pet," he said.

Hill managed to go further than her father ever could have dreamed. She studied in Moscow and at Harvard, became an American citizen, and served on the National Security Council. But in the heartlands of both Russia and the US, she saw grim reflections of her hometown and similar populist impulses. By the time she offered her brave testimony in the impeachment inquiry of President Trump, Hill knew that the desperation of forgotten people was driving American politics over the brink—and that we were running out of time to save ourselves from systemic collapse. In this powerful, deeply personal account, she shares what she has learned, and explains that only by expanding opportunity can we save our democracy.
Houghton Mifflin Harcourt, 9780358574316, 320pp.
Publication Date: October 5, 2021
About the Author
FIONA HILL is a senior fellow in the Center on the United States and Europe in the Foreign Policy program at Brookings. She recently served as deputy assistant to the president and senior director for European and Russian affairs on the National Security Council from 2017 to 2019. From 2006 to 2009 she served as national intelligence officer for Russia and Eurasia at the National Intelligence Council. She has researched and published extensively on issues related to Russia, the Caucasus, Central Asia, regional conflicts, energy, and strategic issues and is coauthor of Mr. Putin: Operative in the Kremlin and The Siberian Curse: How Communist Planners Left Russia Out in the Cold. She holds a master's in Soviet studies and a doctorate in history from Harvard University and a master's in Russian and modern history from St. Andrews University in Scotland, and has pursued studies at Moscow's Maurice Thorez Institute of Foreign Languages. Hill is a member of the Council on Foreign Relations and lives in the Washington, DC, area.