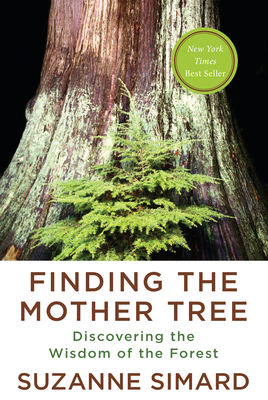 Finding the Mother Tree
Discovering the Wisdom of the Forest
Hardcover

* Individual store prices may vary.
Other Editions of This Title:
Paperback, Large Print (6/8/2021)
Description
From the world's leading forest ecologist who forever changed how people view trees and their connections to one another and to other living things in the forest--a moving, deeply personal journey of discovery

Suzanne Simard is a pioneer on the frontier of plant communication and intelligence; she's been compared to Rachel Carson, hailed as a scientist who conveys complex, technical ideas in a way that is dazzling and profound. Her work has influenced filmmakers (the Tree of Souls of James Cameron's Avatar) and her TED talks have been viewed by more than 10 million people worldwide.

Now, in her first book, Simard brings us into her world, the intimate world of the trees, in which she brilliantly illuminates the fascinating and vital truths--that trees are not simply the source of timber or pulp, but are a complicated, interdependent circle of life; that forests are social, cooperative creatures connected through underground networks by which trees communicate their vitality and vulnerabilities with communal lives not that different from our own.

Simard writes--in inspiring, illuminating, and accessible ways--how trees, living side by side for hundreds of years, have evolved, how they perceive one another, learn and adapt their behaviors, recognize neighbors, and remember the past; how they have agency about the future; elicit warnings and mount defenses, compete and cooperate with one another with sophistication, characteristics ascribed to human intelligence, traits that are the essence of civil societies--and at the center of it all, the Mother Trees: the mysterious, powerful forces that connect and sustain the others that surround them.

Simard writes of her own life, born and raised into a logging world in the rainforests of British Columbia, of her days as a child spent cataloging the trees from the forest and how she came to love and respect them--embarking on a journey of discovery, and struggle. And as she writes of her scientific quest, she writes of her own journey--of love and loss, of observation and change, of risk and reward, making us understand how deeply human scientific inquiry exists beyond data and technology, that it is about understanding who we are and our place in the world, and, in writing of her own life, we come to see the true connectedness of the Mother Tree that nurtures the forest in the profound ways that families and human societies do, and how these inseparable bonds enable all our survival.
Praise For Finding the Mother Tree: Discovering the Wisdom of the Forest…
"Galvanizing . . . As Simard elucidates her revolutionary experiments, replete with
gorgeous descriptions and moments of fear and wonder, a vision of the forest as an 'intelligent, perceptive and responsive,' comes into focus . . . A masterwork of planetary significance." —Booklist (starred review)
 
"Simard artfully blends science with memoir in her eye-opening debut on the 'startling secrets' of trees . . . As moving as it is educational, this groundbreaking work entrances."—Publishers Weekly (starred review)
 
"Simard tells the fascinating story that led Richard Powers to base a character on her in his Pulitzer Prize–winning novel The Overstory . . . intimate . . . absorbing . . . engaging . . . the science is solid, and the author's overarching theme of stewardship is clear, understandable, and necessary."—Kirkus 

"Finding the Mother Tree reminds us that the world is a web of stories, connecting us to one another. Her vivid manuscript carries the stories of trees, fungi, soil and bears--and of a human being listening in on the conversation. The interplay of personal narrative, scientific insights and the amazing revelations about the life of the forest make a compelling story. Dr. Simard's journey as a scientist embodies the power of curiosity coupled to commitment to listen to the natural world and the courage to share what she has learned, against the resistance of scientific establishment. I have great admiration for her science and her storytelling alike. These are stories that the world needs to hear."—Robin Wall Kimmerer, author of Braiding Sweetgrass

"This book promises to change our understanding about what is really going on in the forest, and other pressing mysteries about the real world."--Michael Pollan 

"It completely overturned my view of nature."--Kristin Ohlson, New York Times bestselling author

"I can think of no one better suited to bring humanity into the process of science."--J. C. Cahill, professor of plant ecology at the University of Alberta

"What Simard is revealing here has implications and potential on the scale of mapping the human genome. Simard is one of this planet's most insightful and eloquent translators."--John Vaillant, bestselling author of The Tiger, Jaguar's Children, and The Golden Spruce

"The stories Simard tells, and the insights she draws from them, will inspire readers and change the way they think about the world around them."--Catherine Gehring, professor of biology at Northern Arizona University

"This book will have profound implications for our human relationships with the natural world. The insights presented by Dr. Simard point toward a complete paradigm shift in the ways we humans interact with forests, trees, and other species."--Nancy Jean Turner, professor of ethnobotany at the University of Victoria, author of The Earth's Blanket
Knopf, 9780525656098, 368pp.
Publication Date: May 4, 2021
About the Author
SUZANNE SIMARD was born in the Monashee Mountains of British Columbia and was educated at the University of British Columbia and Oregon State University. She is Professor of Forest Ecology in the University of British Columbia's Faculty of Forestry.