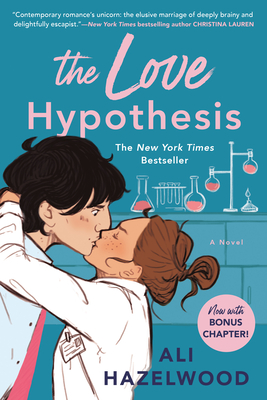 The Love Hypothesis
Paperback

* Individual store prices may vary.
Description
When a fake relationship between scientists meets the irresistible force of attraction, it throws one woman's carefully calculated theories on love into chaos.

As a third-year Ph.D. candidate, Olive Smith doesn't believe in lasting romantic relationships--but her best friend does, and that's what got her into this situation. Convincing Anh that Olive is dating and well on her way to a happily ever after was always going to take more than hand-wavy Jedi mind tricks: Scientists require proof. So, like any self-respecting biologist, Olive panics and kisses the first man she sees.

That man is none other than Adam Carlsen, a young hotshot professor--and well-known ass. Which is why Olive is positively floored when Stanford's reigning lab tyrant agrees to keep her charade a secret and be her fake boyfriend. But when a big science conference goes haywire, putting Olive's career on the Bunsen burner, Adam surprises her again with his unyielding support and even more unyielding...six-pack abs.

Suddenly their little experiment feels dangerously close to combustion. And Olive discovers that the only thing more complicated than a hypothesis on love is putting her own heart under the microscope.
Praise For The Love Hypothesis…
"Contemporary romance's unicorn: the elusive marriage of deeply brainy and delightfully escapist...The Love Hypothesis has wild commercial appeal but the quieter secret is that there is a specific audience, made up of all of the Olives in the world, who have deeply, ardently waited for this exact book."—Christina Lauren, New York Times bestselling author

"Funny, sexy and smart, Ali Hazelwood did a terrific job with The Love Hypothesis."—Mariana Zapata, New York Times bestselling author

"This tackles one of my favorite tropes—Grumpy meets Sunshine—in a fun and utterly endearing way...I loved the nods towards fandom and romance novels, and I couldn't put it down. Highly recommended!"—Jessica Clare, New York Times bestselling author

"A beautifully written romantic comedy with a heroine you will instantly fall in love with, The Love Hypothesis is destined to earn a place on your keeper shelf."—Elizabeth Everett, author of A Lady's Formula for Love
Berkley, 9780593336823, 384pp.
Publication Date: September 14, 2021
About the Author
Ali Hazelwood is a multi-published author--alas, of peer-reviewed articles about brain science, in which no one makes out and the ever after is not always happy. Originally from Italy, she lived in Germany and Japan before moving to the U.S. to pursue a Ph.D. in neuroscience. She recently became a professor, which absolutely terrifies her. When Ali is not at work, she can be found running, eating cake pops, or watching sci-fi movies with her two feline overlords (and her slightly-less-feline husband).