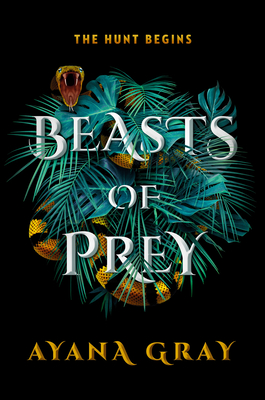 Beasts of Prey
Hardcover

* Individual store prices may vary.
Description
In this much-anticipated series opener, fate binds two Black teenagers together as they strike a dangerous alliance to hunt down the creature menacing their home—and uncover ancient deadly secrets.


There's no such thing as magic in the broken city of Lkossa, especially for sixteen-year-old Koffi, who holds a power within her that could only be described as magic—a power that if discovered could cost her life. Indentured to the notorious Night Zoo, Koffi knows the fearsome creatures in her care and paying off her family's debts to secure their eventual freedom can be her only focus. But the night those she loves are gravely threatened by the Zoo's cruel master, Koffi finally unleashes the power she doesn't fully understand, upending her life completely.

As the second son of a decorated hero, Ekon is all but destined to become a Son of the Six—an elite warrior—and uphold a family legacy. But on the night of his final rite of passage, Ekon encounters not only the Shetani—a vicious monster that has plagued the city for nearly a century and stalks his nightmares, but Koffi who seems to have the power to ward off the beast. Koffi's power ultimately saves Ekon's life, but his choice to let her flee dooms his hopes of becoming a warrior.

Desperate to redeem himself, Ekon vows to hunt the Shetani and end its reign of terror, but he can't do it alone. Meanwhile, Koffi believes finding the Shetani could also be the key to solving her own problems. Koffi and Ekon form a tentative alliance and together enter the Greater Jungle, a world steeped in wild, frightening magic and untold dangers. The hunt begins. But it quickly becomes unclear whether they are the hunters or the hunted.

Praise For Beasts of Prey…
Praise for Beasts of Prey:

"A delight. I rarely fall in love with characters as quickly as I did with Koffi and Ekon. Gray masterfully balances the wonder and uncertainty of youth with a deftly, fully imagined world that I was dying to learn more about." —Shannon Chakraborty, author of the critically acclaimed and internationally bestselling The Daevabad Trilogy
 
"Ayana Gray's wonder-filled world of mythos and monsters and magic comes to life in the ensnaring, enchanting Greater Jungle. An unputdownable tale that unfolds in a maze of twists and turns, driven by the crackling wit of two protagonists on a quest to vanquish the beasts of their present and past." —Amélie Wen Zhao, author of the Blood Heir trilogy
G.P. Putnam's Sons Books for Young Readers, 9780593405680, 496pp.
Publication Date: September 28, 2021
About the Author
Ayana Gray is an author of speculative works and lover of all things monsters, mythos, and #MelaninMagic. Originally from Atlanta, she now lives in sunny Florida, where she reads avidly, follows Formula One racing, and worries over her adopted baby black rhino, Apollo. Beasts of Prey is her debut novel.