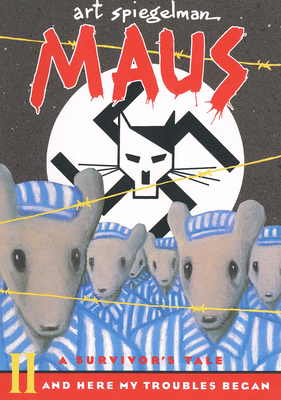 Maus II
A Survivor's Tale: And Here My Troubles Began (Pantheon Graphic Library)
Paperback

* Individual store prices may vary.
Description
The second installment of the Pulitzer Prize-winning graphic novel acclaimed as "the most affecting and successful narrative ever done about the Holocaust" (Wall Street Journal) and "the first masterpiece in comic book history" (The New Yorker).

A brutally moving work of art—widely hailed as the greatest graphic novel ever written—Maus recounts the chilling experiences of the author's father during the Holocaust, with Jews drawn as wide-eyed mice and Nazis as menacing cats.

Maus is a haunting tale within a tale, weaving the author's account of his tortured relationship with his aging father into an astonishing retelling of one of history's most unspeakable tragedies. It is an unforgettable story of survival and a disarming look at the legacy of trauma.
Praise For Maus II: A Survivor's Tale: And Here My Troubles Began (Pantheon Graphic Library)…
"The most affecting and successful narrative ever done about the Holocaust."
—The Wall Street Journal

"Maus is a book that cannot be put down, truly, even to sleep. When two of the mice speak of love, you are moved, when they suffer, you weep. Slowly through this little tale comprised of suffering, humor and life's daily trials, you are captivated by the language of an old Eastern European family, and drawn into the gentle and mesmerizing rhythm, and when you finish Maus, you are unhappy to have left that magical world."
—Umberto Eco

"In part two of Maus, Art Spiegelman finishes his masterpiece . . . You can't help witnessing—even feeling—the act of private pain being transformed into lasting truth."
—The Boston Globe

"One of the most poweful and original memoirs to come along in recent years . . . An epic story told in tiny pictures."
—The New York Times
Pantheon, 9780679729778, 144pp.
Publication Date: September 1, 1992
About the Author
ART SPIEGELMAN is co-founder/editor of Raw, the acclaimed magazine of avant-garde comics and graphics. His work has been published in The New York Times, Playboy, The Village Voice, and many other periodicals, and his drawings have been exhibited in museums and galleries here and abroad. Honors he has received for Maus include the 1992 Pulitzer Prize, a Guggenheim fellowship, and nomination for the National Book Critics Circle Award. Mr. Spiegelman lives in New York City with his wife, Francoise Mouly, and their children, Nadja and Dashiell.