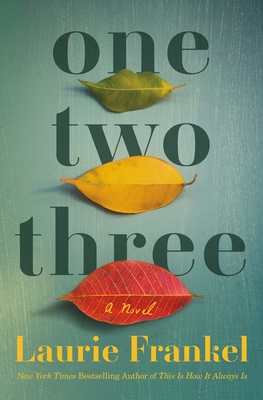 One Two Three
A Novel
Hardcover

* Individual store prices may vary.
Other Editions of This Title:
CD-Audio (6/8/2021)
Description
From Laurie Frankel, the New York Times bestselling author of This Is How It Always Is, a Reese's Book Club pick, comes a timely, topical novel about love and family that will make you laugh and cry...and laugh again.

In a town where nothing ever changes, suddenly everything does...

Everyone knows everyone in the tiny town of Bourne, but the Mitchell triplets are especially beloved. Mirabel is the smartest person anyone knows, and no one doubts it just because she can't speak. Monday is the town's purveyor of books now that the library's closed—tell her the book you think you want, and she'll pull the one you actually do from the microwave or her sock drawer. Mab's job is hardest of all: get good grades, get into college, get out of Bourne.

For a few weeks seventeen years ago, Bourne was national news when its water turned green. The girls have come of age watching their mother's endless fight for justice. But just when it seems life might go on the same forever, the first moving truck anyone's seen in years pulls up and unloads new residents and old secrets. Soon, the Mitchell sisters are taking on a system stacked against them and uncovering mysteries buried longer than they've been alive. Because it's hard to let go of the past when the past won't let go of you.

Three unforgettable narrators join together here to tell a spellbinding story with wit, wonder, and deep affection. As she did in This Is How It Always Is, Laurie Frankel has written a laugh-out-loud-on-one-page-grab-a-tissue-the-next novel, as only she can, about how expanding our notions of normal makes the world a better place for everyone and how when days are darkest, it's our daughters who will save us all.
Praise For One Two Three: A Novel…
Indie Next Pick

Praise for Laurie Frankel's One Two Three

"In Frankel's tender-hearted latest…sharp plotting—with several surprising reversals—and memorable characters reflect a deep imagination that adds texture and complexity…. Readers will be captivated by this story of adversity and resilience."
—Publishers Weekly

"One Two Three is a coming-of-age story that examines intergenerational trauma, sisterhood, and agency. Frankel (This Is How It Always Is, 2017) creates unique personalities for One, Two, and Three and builds a memorable world in Bourne."
—Booklist

"Frankel has given us another socially conscious 21st-century fable in a voice that is part pastor, part political speechwriter, and part Fannie Flagg. Clever, charming, and always on message."
—Kirkus Reviews

"I loved One Two Three from start to finish. What you always get with a Laurie Frankel novel is an engrossing plot—she's a terrific storyteller—but for me the best part of any of her novels are the three-dimensional characters she's created, characters for whom she has empathy and palpable affection, characters who seem to leap off the page and into the heart of the reader. And that's never been more evident than in One Two Three. I highly recommend it—it's a book that will immediately draw you in and provide great reading pleasure."
—Nancy Pearl, author of the Book Lust series and George & Lizzie

"One Two Three is a powerful and nuanced novel about hope, human frailty, and love. Laurie Frankel takes a clear-eyed look at the mess we make of the world when we privilege profits over people and, brilliantly, without flinching from the truth, allows no hint of contempt, disgust, or hatred to enter the conversation. Three sisters, Mab, Monday, and Mirabel, understand that you can't fight old problems with traditional tools. Their gifts and differences and love for each other help them to understand that their mother—our mothers—can't make the change the world needs. It's up to the daughters to act, to move us forward, to tell a different story. It is the daughters who will save us. One Two Three is the blueprint for a true revolution."
—Nicola Griffith, author of Hild and So Lucky

"In One Two Three, Laurie Frankel's signature wit, warmth, and fierce compassion shine with the story of three courageous, memorable triplets. I loved this book from the first line to the last."
—Marilyn Dahl, Shelf Awareness

Praise for Laurie Frankel's This Is How It Always Is

"I was lucky enough to receive an advance reading copy of this very special book about a family with a secret. It made me laugh, it made me cry, it made me think. Preorder your copy now."
—Liane Moriarty, #1 New York Times bestselling author of Truly Madly Guilty

"A lively and fascinating story of a thoroughly modern family and the giant, multifaceted love that binds them. This Is How It Always Is sparkles with wit and wisdom."
—Maria Semple, New York Times bestselling author of Where'd You Go, Bernadette

"Laurie Frankel has written one of those very rare, special novels that examines the way we live—in our homes, in our families, in our bodies—with an astonishing balance of humor, complexity, and above all, kindness. This Is How It Always Is teaches us to look beyond the traditional binary oppositions of boy vs. girl, right vs. wrong, real vs. make-believe, and to find courage and beauty in the in-between."
—Ruth Ozeki, New York Times bestselling author of A Tale for the Time Being

"It's early days, but this big-hearted novel about a family with a transgender child is in the lead for the most sensitively and sincerely told story of 2017…Frankel's portrayal of even the most openhearted parents' doubts and fears around a child's gender identity elevates this novel."
—People, "Book of the Week"

"Deeply satisfying…An intimate family story…Day-to-day parenting dilemmas are where Frankel shines."
—The New York Times Book Review

"One of the most timely and big-hearted family stories I have read in a long time…This is a beautiful novel about the unexpected curve balls of parent and sibling relationships, and the limitless boundaries of family love."
—Bustle

"This wise and often funny novel is a compassionate lesson in discovering and welcoming what makes each of us unique."
—Redbook

"Illuminatingly nuanced and heartfelt, This Is How It Always Is is the story of how a family evolves—and grows—together."
—Refinery29
Henry Holt and Co., 9781250236777, 416pp.
Publication Date: June 8, 2021
About the Author
Laurie Frankel is the New York Times bestselling, award-winning author of novels such as The Atlas of Love, Goodbye for Now, and the Reese's Book Club x Hello Sunshine Book Pick This Is How It Always Is. Frankel lives in Seattle with her husband, daughter, and border collie. She makes good soup.