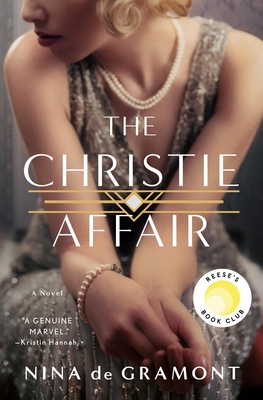 The Christie Affair
A Novel
Hardcover

* Individual store prices may vary.
Other Editions of This Title:
CD-Audio (2/1/2022)
Description
Every story has its secrets.
Every mystery has its motives.

"A long time ago, in another country, I nearly killed a woman. It's a particular feeling, the urge to murder. It takes over your body so completely, it's like a divine force, grabbing hold of your will, your limbs, your psyche. There's a joy to it. In retrospect, it's frightening, but I daresay in the moment it feels sweet. The way justice feels sweet."

The greatest mystery wasn't Agatha Christie's disappearance in those eleven infamous days, it's what she discovered.

London, 1925: In a world of townhomes and tennis matches, socialites and shooting parties, Miss Nan O'Dea became Archie Christie's mistress, luring him away from his devoted and well-known wife, Agatha Christie.

The question is, why? Why destroy another woman's marriage, why hatch a plot years in the making, and why murder? How was Nan O'Dea so intricately tied to those eleven mysterious days that Agatha Christie went missing?

A beguiling novel of star-crossed lovers, heartbreak, revenge, and murder—and a brilliant re-imagination of one of the most talked-about unsolved mysteries of the twentieth century
Praise For The Christie Affair: A Novel…
"The Christie Affair is a genuine marvel. An astonishingly clever novel that manages to be both a deeply satisfying mystery and a profoundly moving story about lost love and the many ways in which grief can shape one's character. Full of unexpected twists and written in beautiful prose, The Christie Affair brilliantly answers a question that has haunted readers for years: What happened to Agatha Christie in the days she was missing? Nina de Gramont takes this thread of a story and weaves it into a rich and vibrant tapestry." -- Kristin Hannah, author of The Four Winds

"The Christie Affair is a pitch-perfect hat trick of a novel, delivering a fascinating glimpse into history, with the sensational and unexplained disappearance of Agatha Christie, a layered and completely satisfying murder mystery, and a moving, emotional rendering of love, loss, revenge and redemption—all with effortlessly stunning prose. I loved every page, and will be recommending this to everyone I know!" -- Paula McLain, author of The Paris Wife and When the Stars Go Dark

"This novel about the 11-day disappearance of Agatha Christie, told from the point of view of Christie's husband's mistress, is such a delight: intriguing, fast-paced, and elegantly written. Nina de Gramont takes you on an adventure through the English countryside with as many twists and turns as, well, an Agatha Christie novel. The unlikely alliances, complex motivations, and jaw-dropping surprises will keep you riveted until the very last page." -- Christina Baker Kline, author of Orphan Train and The Exiles

"Dare I admit I haven't read any Agatha Christie or know about her disappearance? I feared this might somehow diminish The Christie Affair for me. But Nina de Gramont's skillful storytelling is exceeded only by her tenderness for her characters, and I was swept up, turning the pages and savoring them, too. This is a cracking good read!"-- Therese Fowler, author of A Good Neighborhood

"Immersive, reflexive and propulsive, The Christie Affair is an extremely impressive literary novel which reveals its hidden themes and secrets through a narrative dance brilliantly done. This tale of two very different women who want the very same things in life forges surprising bonds both with its characters and the reader, deliciously subverting our notions of what makes a heroine, mother, writer and wife." -- Natalie Jenner, author of The Jane Austen Society

"The Christie Affair is my favorite kind of story: a fresh take on a real-life event, layered with mystery and filled with breath-taking plot twists. Toss in the windswept English countryside and a tragic past, and I'm done for. Nina de Gramont's novel shines on so many levels, it's hard to keep count: as an ode to Agatha Christie's legacy, as a dashing love story, and as a tribute to complicated, determined women. Magnificent."
--Fiona Davis, author of The Lions of Fifth Avenue

"I read in a single sitting The Christie Affair by Nina de Gramont, who weaves a captivating tale around the real life disappearance of mystery writer Agatha Christie from the point of view of her husband's lover. The story combines dark pasts, dangerous liaisons and unforeseen twists into a masterful work reminiscent of one of Christie's enigmatic works. The Christie Affair is both enthralling and beguiling, and will keep readers guessing until the very last page." -- Pam Jenoff, author of The Lost Girl of Paris
St. Martin's Press, 9781250274618, 320pp.
Publication Date: February 1, 2022
About the Author
Nina de Gramont is a professor of Creative Writing at University of North Carolina, Wilmington. She is the author of THE LAST SEPTEMBER (Algonquin 2015) as well as several Young Adult novels.
or
Not Currently Available for Direct Purchase