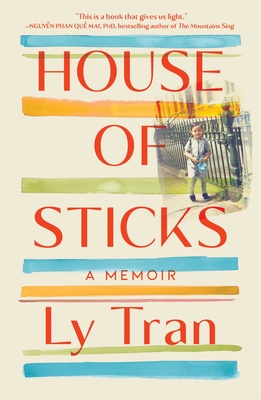 House of Sticks
A Memoir
Hardcover

* Individual store prices may vary.
Other Editions of This Title:
Compact Disc (6/1/2021)
Description
An intimate, beautifully written coming-of-age memoir recounting a young girl's journey from war-torn Vietnam to Ridgewood, Queens, and her struggle to find her voice amid clashing cultural expectations.

Ly Tran is just a toddler in 1993 when she and her family immigrate from a small town along the Mekong river in Vietnam to a two-bedroom railroad apartment in Queens. Ly's father, a former lieutenant in the South Vietnamese army, spent nearly a decade as a POW, and their resettlement is made possible through a humanitarian program run by the US government. Soon after they arrive, Ly joins her parents and three older brothers sewing ties and cummerbunds piece-meal on their living room floor to make ends meet.

As they navigate this new landscape, Ly finds herself torn between two worlds. She knows she must honor her parents' Buddhist faith and contribute to the family livelihood, working long hours at home and eventually as a manicurist alongside her mother at a nail salon in Brownsville, Brooklyn, that her parents take over. But at school, Ly feels the mounting pressure to blend in.

A growing inability to see the blackboard presents new challenges, especially when her father forbids her from getting glasses, calling her diagnosis of poor vision a government conspiracy. His frightening temper and paranoia leave an indelible mark on Ly's sense of self. Who is she outside of everything her family expects of her?

Told in a spare, evocative voice that, with flashes of humor, weaves together her family's immigration experience with her own fraught and courageous coming of age, House of Sticks is a timely and powerful portrait of one girl's struggle to reckon with her heritage and forge her own path.
Praise For House of Sticks: A Memoir…
"House of Sticks is a book that will assault and warm your heart at the same time—a classic immigrant tale, told from the perspective of a Vietnamese child who settled with her family in New York City in the early '90s with little to no knowledge about life in America… But it is also much more: a coming of age story, A New York hustle, a battle with a father who not only maintains an ironclad sense of filial duty, but also, fueled by his paranoia, exercises irrational control over things like vision correction. (In another elegant examination of absence, the book recounts what a fundamental challenge it is to move through the world without basic ability to see.)"
—Vogue, Best Books to Read 2021

"In her phenomenal debut, House of Sticks: A Memoir, Ly Tran mines both trauma and love from her coming of age as a young Vietnamese immigrant to the United States … Her vivid, unadorned narration yields a painful but powerful exploration of the struggle to find a sense of self within a family at the cross-section of cultures, and Tran's story is impossible to forget."
—Shelf Awareness

"Tracing the paths of immigration and poverty, Tran's moving and exceptionally readable memoir is at once heartbreaking, shocking, and hopeful ... Tran is exceptional at telling her story with honesty and without judgment. Readers who loved Tara Westover's Educated (2018) will find a similarly compelling memoir of resilience in a not-often-seen America."
—Booklist, starred review

"At the heart of Tran's story as a Vietnamese refugee, a young woman, a daughter, a sister, and much more, lie the intimately drawn portraits of the people whom she loves despite their imperfections and the people who love her—despite hers. House of Sticks is a vibrant reminder of the ferocious courage it takes to love and to be loved, and how that courage is the first step toward finding your place in the world."
—Phuc Tran, author of Sigh, Gone

"On the landscape of nail salons and her family's sweat shop, Ly Tran paints the songs of her courage, dreams, and her fight for sanity and humanity. This is the story of a magnificent lotus who rises up from a pond of mud – the mud of poverty, racism, inherited trauma, depression – with the power and radiance of her storytelling. This is a book that demands us to look beyond just the name of each and every war refugee. This is a book that gives us light."
— Nguyễn Phan Quế Mai, PhD, bestselling author of The Mountains Sing

"I guarantee that you will never see the nail salon technician in the same way after reading Ly Tran's memoir. House of Sticks is a powerful report from the trenches of the immigrant experience and what it really means to become an American. It's Tran's story, but it's also the story of this country—and in this day and age we would do well not to forget that."
—Saïd Sayrafiezadeh, author of When Skateboards Will be Free and Brief Encounters With the Enemy

"Like Tara Westover's memoir, Educated, this book is a record of resilience. A story about finding a place in America and about finding a voice, Ly Tran's House of Sticks is destined to join the canon of refugee literature."
—Amitava Kumar, author of Immigrant, Montana

"In this remarkable memoir, Ly Tran tracks trauma and resilience with deep generosity for all the people in her life. Her prose is spare and unflinching, but the story she tells is layered and rich. This is an America we all need to know."
—Cris Beam, author of To The End of June: The Intimate Life of American Foster Care

"With the trenchancy of a social novel, Ly Tran's House of Sticks tracks the cost of arriving and surviving in America. Hours of labor. Rent, food, square footage. Growing up between worlds that increasingly diverge, she explores with striking honesty and tenderness the family ledger, where the burden of payment and repayment is constantly being calculated, and where love is recorded as both debt and wealth. A completely unprecedented book."
—Heidi Julavits, author of The Vanishers

"Ly Tran's struggles to locate and nurture her essential self as a Vietnamese immigrant, a woman, an American, and a young writer offer an essential window into hitherto unseen lives. Spare, devastating, and redemptive, this book will open your eyes and heart."
—Julie Metz, author of Perfection and Eva and Eve

"The soaring blue tarp of a vast tent in a Thai refugee camp is Ly Tran's first memory. Age 3, she travels from a nhà lá in verdant Vietnam to an unheated railroad flat in snowy Queens with her parents and brothers. Ly's inspiring memoir unforgettably expresses the internal cost of the immigrant success story, particularly for those ambitious, gifted daughters whose triumphs are so hard-won. House Of Sticks, a gem to "be the light" on every bookshelf, should be required reading for Americans anywhere."
—Jayne Anne Phillips, author of Lark & Termite, Machine Dreams, and Black Tickets
Scribner, 9781501118814, 384pp.
Publication Date: June 1, 2021
About the Author
Ly Tran graduated from Columbia University in 2014 with a degree in Creative Writing and Linguistics. She has received fellowships from MacDowell, Art Omi, and Yaddo. House of Sticks is her first book.