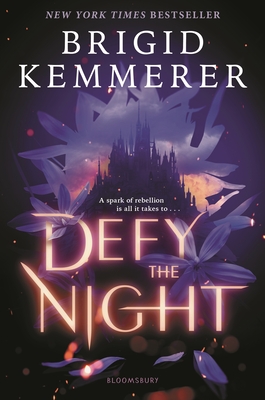 Defy the Night
Hardcover

* Individual store prices may vary.
Description
From New York Times bestselling author Brigid Kemmerer comes a blockbuster fantasy series about a kingdom divided by corruption, the prince desperately holding it together, and the girl who will risk everything to bring it crashing down.

The kingdom of Kandala is on the brink of disaster. Rifts between sectors have only worsened since a sickness began ravaging the land, and within the Royal Palace, the king holds a tenuous peace with a ruthless hand.

King Harristan was thrust into power after his parents' shocking assassination, leaving the younger Prince Corrick to take on the brutal role of the King's Justice. The brothers have learned to react mercilessly to any sign of rebellion--it's the only way to maintain order when the sickness can strike anywhere, and the only known cure, an elixir made from delicate Moonflower petals, is severely limited.

Out in the Wilds, apothecary apprentice Tessa Cade is tired of seeing her neighbors die, their suffering ignored by the unyielding royals. Every night, she and her best friend Wes risk their lives to steal Moonflower petals and distribute the elixir to those who need it most--but it's still not enough.

As rumors spread that the cure no longer works and sparks of rebellion begin to flare, a particularly cruel act from the King's Justice makes Tessa desperate enough to try the impossible: sneaking into the palace. But what she finds upon her arrival makes her wonder if it's even possible to fix Kandala without destroying it first.

Set in a richly imaginative world with striking similarities to our own, Brigid Kemmerer's captivating new series is about those with power and those without . . . and what happens when someone is brave enough to imagine a new future.
Praise For Defy the Night…
"Brigid Kemmerer has woven her compelling heroine into a kinetic tale of the tension between duty, love and trust." —Cassandra Clare, #1 New York Times bestselling author of THE LAST HOURS

"Immersive and engaging, Defy the Night is a romantic epic that blends magic and politics with a deft hand." —Adrienne Young, New York Times Bestselling author of FABLE

"Defy the Night is a twisty, edge-of-your-seat fantasy that has it all--outlaws, court intrigue, rebellions, and romance. Addicting from page one!" —#1 New York Times best-selling author Jennifer L. Armentrout

"A captivating combination of thrilling adventure, swoon-worthy romance, and royal intrigue, Defy the Night is everything I crave in a fantasy romance." —Stephanie Garber, #1 New York Times bestselling author of the Caraval series

"Defy the Night has everything you want in a story: a complex, dangerous world where anyone could be your enemy, a tortured hero, and my personal favorite: plenty of kissing. This book is unputdownable." —Isabel Ibañez, author of WOVEN IN MOONLIGHT, a William C. Morris award finalist

"A high stakes fantasy with heart and originality. Kemmerer is a master of nuance and political intrigue, and readers will fall in love with her characters while they race through the pages." —Elizabeth Lim, New York Times bestselling author of SPIN THE DAWN and SO THIS IS LOVE

"A breathtaking, tender, and fiercely page-turning story, Defy the Night has left me thinking and questioning, which is the best thing any book can do." —New York Times bestselling author, Mary E. Pearson

"Has everything you'd want in a retelling of a classic fairy tale." —Jodi Picoult, New York Times bestselling author of A SPARK OF LIGHT and SMALL GREAT THINGS, on A CURSE SO DARK AND LONELY

"Absolutely spellbinding." —Stephanie Garber, #1 New York Times bestselling author of CARAVAL and LEGENDARY, on A CURSE SO DARK AND LONELY

"I couldn't get this creative, suspenseful take on 'Beauty and the Beast' out of my head." —Sara Holland, New York Times bestselling author of EVERLESS, on A CURSE SO DARK AND LONELY

"Heartwarming, thoughtful, and romantic: Brigid Kemmerer took me on a magical journey with this dark fairy tale about growing up, falling in love, and making impossible choices." —Jodi Meadows, New York Times bestselling co-author of MY LADY JANE and MY PLAIN JANE, on A CURSE SO DARK AND LONELY

"Harper is the undisputed hero . . . Avoiding disability inspiration tropes, she is a fallible, well-rounded character who fights for the vulnerable and resists being labeled as such herself despite how others perceive her. A fast-paced, richly detailed feminist epic." —Kirkus Reviews, starred review, on A CURSE SO DARK AND LONELY

"This enthralling modern fable champions altruism while illustrating intimacy's relationship with honesty, respect, trust, and consent." —Publishers Weekly, starred review, on A CURSE SO DARK AND LONELY

"Fans of Cassandra Clare, Marissa Meyer, or Alex Flinn, as well as any reader looking to sink into a top-notch story with great characters, will want to read this book." —VOYA, starred review, on A CURSE SO DARK AND LONELY
Bloomsbury YA, 9781547604661, 496pp.
Publication Date: September 14, 2021
About the Author
Brigid Kemmerer is the author of the New York Times bestselling Cursebreaker series, which includes A Curse So Dark and Lonely, A Heart So Fierce and Broken, and A Vow So Bold and Deadly. She has also written the contemporary young adult romances Call It What You Want, More Than We Can Tell, and Letters to the Lost, as well as paranormal young adult stories, including the Elemental series and Thicker Than Water. A full-time writer, Brigid lives in the Baltimore area with her family.

brigidkemmerer.com
@BrigidKemmerer