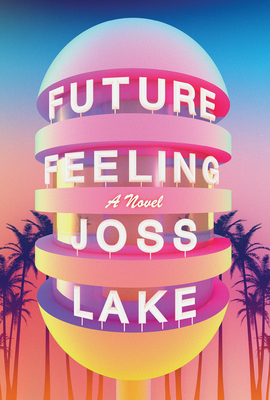 Future Feeling
A Novel
Paperback

* Individual store prices may vary.
Description
An embittered dog walker obsessed with a social media influencer inadvertently puts a curse on a young man—and must adventure into mysterious dimension in order to save him—in this wildly inventive, delightfully subversive, genre-nonconforming debut novel about illusion, magic, technology, kinship, and the emergent future.

The year is 20__, and Penfield R. Henderson is in a rut. When he's not walking dogs for cash or responding to booty calls from his B-list celebrity hookup, he's holed up in his dingy Bushwick apartment obsessing over holograms of Aiden Chase, a fellow trans man and influencer documenting his much smoother transition into picture-perfect masculinity on the Gram. After an IRL encounter with Aiden leaves Pen feeling especially resentful, Pen enlists his roommates, the Witch and the Stoner-Hacker, to put their respective talents to use in hexing Aiden. Together, they gain access to Aiden's social media account and post a picture of Pen's aloe plant, Alice, tied to a curse:

Whosoever beholds the aloe will be pushed into the Shadowlands.

When the hex accidentally bypasses Aiden, sending another young trans man named Blithe to the Shadowlands (the dreaded emotional landscape through which every trans person must journey to achieve true self-actualization), the Rhiz (the quasi-benevolent big brother agency overseeing all trans matters) orders Pen and Aiden to team up and retrieve him. The two trace Blithe to a dilapidated motel in California and bring him back to New York, where they try to coax Blithe to stop speaking only in code and awkwardly try to pass on what little trans wisdom they possess. As the trio makes its way in a world that includes pitless avocados and subway cars that change color based on occupants' collective moods but still casts judgment on anyone not perfectly straight, Pen starts to learn that sometimes a family isn't just the people who birthed you.

Magnificently imagined, linguistically dazzling, and riotously fun, Future Feeling presents an alternate future in which advanced technology still can't replace human connection but may give the trans community new ways to care for its own.
Praise For Future Feeling: A Novel…
An O, The Oprah Magazine LGBTQ Book That Will Change the Literary Landscape Next Year
One of The Millions' Most Anticipated Books of the Year
An LGBTQ Reads Most Anticipated Book of the Year

"A trans man armed with the power of self-reflection embarks on a hero's journey . . . akin to a queer millennial version of The Alchemist, complete with proverbs and personal growth . . . This is a modern allegory with a unique voice—searching, questioning, vulnerable, witty." ––Kirkus Reviews

"Queers reconstructing and shaping their stories, including getting it wrong and needing some guidance, are at the core of this novel . . . The futuristic New York and Los Angeles that form the backdrop for a modern and youthful queer culture make for stimulating immersion." ––Booklist

"Set in the near future, Lake's quirky, chaotic debut follows trans man Penfield Henderson as he wrestles with his self-destructive impulses and stumbles his way toward finding a queer community . . . This coming-of-age journey through the surreality of gender will please readers seeking speculative queer fiction." ––Publishers Weekly

"Future Feeling will fit on your shelf right next to Paul Takes the Form of a Mortal Girl . . . Lake has constructed a wonderful world where trans identity is celebrated and centered, where trans characters are allowed to be messy and complicated and human. It's, quite honestly, the kind of book I've been waiting for for a really long time. I'm so glad it's finally here." ––Christina Orlando, Tor

"I devoured this funny, charming book of trans friendships and sly cultural commentary; a story about what truly matters for those of us lost in the maelstrom of identity and media. Here's how unable I was to put it down: I accidentally dropped it in the toilet, fished it out, and kept right on reading." —Torrey Peters, author of Detransition, Baby

"In this brilliant and breathtakingly inventive debut, Lake captures the nuances, pain, and absurdity of obsession and idolization as we follow this refreshingly original narrator navigating the all-too-relatable process of feeling comfortable in one's own skin and becoming a self. I couldn't put this book down." —Zaina Arafat, author of You Exist Too Much

"Future Feeling marks a delightful contribution to the ultra contemporary sci-fi canon. Like (and unlike) the best of cyberpunk, Lake transforms the alienation and flatness of technoculture into a fully dimensional and absorbing alternate reality complete with sprawling queer resistance movements, t4t flirting/obsessions, and sexy magic plant life. And like the best humor writing, Future Feeling is ridiculously fun and smart, and accomplishes that rare and difficult goal: the conversion of anxiety into laughter. I loved this book. It is about the internet, but it is more fun than the internet!" —Jordy Rosenberg, author of Confessions of the Fox

"Smartly set in a strange, yet familiar American offscape, Lake's novel weaves a tantric tale that measures the timelessness of trans identities not in well-intentioned DSM diagnoses, civil rights movements, or social media pedantries, but by cherishing the fissures in the rock wall of intersectionality. For as Future Feeling proves, it's in these misalignments, misunderstandings, and inappropriate joking where we have space to be ourselves." —Paul Beatty, author of The Sellout

"The uneasy future conjured by Joss Lake is really a naked readout on our crumbling present moment. Like every ambitious literary visionary, Lake uses his delirious imagination and potent narrative gifts to sharpen the mirror on how we live and feel now." --Ben Marcus, author of The Flame Alphabet and Notes from the Fog 

"A wildly imaginative, subversively futuristic romp through the depths of the trans psyche, Future Feeling's rendering of the forces that converge upon queer lives not only provokes while it entertains, but ultimately leaves us so much more hopeful for the world to come." —Meredith Talusan, author of Fairest: A Memoir
Soft Skull, 9781593766887, 304pp.
Publication Date: June 1, 2021
About the Author
Joss Lake is a trans writer and educator based in New York whose work has been supported by Queens Council of the Arts, Women and Performance Studies Collective, the Watermill Center, and Columbia University. He runs a literary sauna series called Trans at Rest. This is his debut novel.