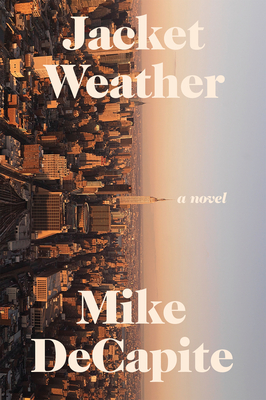 Jacket Weather
Paperback

* Individual store prices may vary.
Description
Nick Hornby meets Patti Smith, Mean Streets meets A Visit From the Goon Squad in this quintessential New York City story about two people who knew each other in the downtown music scene in the 1980s, meet again in the present day, and fall in love.

Mike knew June in New York's downtown music scene in the eighties. Back then, he thought she was "the living night—all the glamour and potential of a New York night when you're 25." Now he's twice divorced and happy to be alone—so happy he's writing a book about it. Then he meets June again. "And here she was with a raincoat over the back of the chair talking about getting a divorce and saying she's done with relationships. Her ice-calm eyes are the same, the same her glory of curls."

Jacket Weather is about awakening to love—dizzying, all-consuming, worldview-shaking love—when it's least expected. It's also about remaining alert to today's pleasures—exploring the city, observing the seasons, listening to the guys at the gym—while time is slipping away. Told in fragments of narrative, reveries, recipes, bits of conversation and snatches of weather, the book collapses a decade in Mike and June's life and shifts a reader to a glowing nostalgia for the present.
Praise For Jacket Weather…
"Mike DeCapite's books all feel like movies to me. The characters, and the rooms and seasons they inhabit, are clear before my eyes. For example, if anyone should ask me to describe the goings-on at the YMCA, I feel expert on the subject. Not that I've ever been in a Y, but from reading DeCapite's novels and short stories, I've spent a good amount of time there. I know the ins and outs of the Ys in Cleveland, San Francisco, and New York City. I know that in these YMCA locker rooms around the country, naked men are standing around talking at length (and quite hilariously) about the preparation of pork cutlets, meatballs, and sauces. The other thing I've learned from reading DeCapite's work is that love is a messy business. As surely as there will be sweaty weight rooms there will be ruined marriages swapped out for doomed romance. The losses are crushing. However, here in Jacket Weather, Mike has finally found June. Sure she's married but that's beside the point. In this case, Mike writes about a more matured, lasting love. The love is both for June and New York City. I hope he isn't jinxing anything." —Kelly Reichardt, director of Wendy and Lucy and First Cow 

"Poetic and compulsively readable, Jacket Weather invents a new genre—call it lyrical realism. Mike Decapite casts a cool but affectionate eye on New York in the 2010s, as it lives on despite having become a replica of itself. Like Virginie Despentes's Vernon Subutex, Jacket Weather traces the lives of those who've stayed on after the party. It's a love story improbably set at the beginning of late middle age and it's also a story of cities, survival, adaptation, desire, and a celebration of the small pleasures we invent and discover to offset unavoidable loss." —Chris Kraus, author of After Kathy Acker and Summer of Hate

"Jacket Weather describes in exacting detail what daily life looks like when you see it through the lens of romantic love. Every scrap of talk and every sign on the street is irradiated by love—and its step-sibling, anxiety. The book is funny, tender, often exhilarating, and borne aloft by DeCapite's ardent, plainspoken lyricism. You can't stop reading it." —Luc Sante, author of Low Life and Maybe the People Would Be the Times

"Jacket Weather is a tender love story that blossoms like a rose in the concrete of a city always on the verge. DeCapite's effortless prose stirs echoes of certain New York School poets, of 'cold rosy dawn in New York City,' night streets illuminated by great bars and the music streaming out of them, the endless possibilities of a place where, despite persistent evidence to the contrary, 'love is the heart of everything.'" —Max Blagg, author of Slow Dazzle and Loud Money

"I don't think there exists another novel like Jacket Weather. Mike DeCapite has flawless pitch for dialogue and an imagist's eye, and his prose is lucent and uncluttered, but what's really a surprise (and should not be) is this: he's written an almost unbearably tender love story for adults. The days and weeks and seasons and every quotidian detail vibrate with newness and suspense." —Mimi Lipson, author of The Cloud of Unknowing
Soft Skull, 9781593766931, 272pp.
Publication Date: October 12, 2021
About the Author
Mike DeCapite has published the novel Through the Windshield, the chapbook Creamsicle Blue, and the short-prose collection Radiant Fog under the banner of Sparkle Street Books. Cuz Editions published his story "Sitting Pretty," later anthologized in The Italian American Reader. DeCapite grew up in Cleveland and has lived in London and San Francisco, but has spent most of his time in New York City, where he now resides.