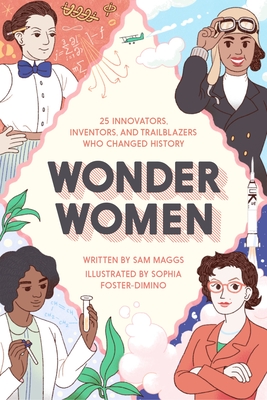 Wonder Women
25 Innovators, Inventors, and Trailblazers Who Changed History
Hardcover

* Individual store prices may vary.
November 2016 Indie Next List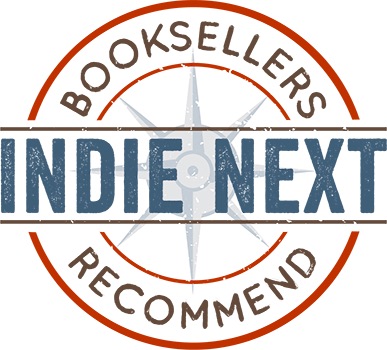 "In this delightful book, Maggs introduces readers to amazing women who changed history through their creativity, inventions, and remarkable paths of service in areas overwhelmed by men. From Huang Daopo, Chinese textile pioneer, to Brita Tott, Danish spy and forger, and from Elizabeth and Emily Blackwell, American doctors and hospital administrators, to Bessie Coleman, African-American aviatrix, the intelligence and stamina of these women is amazing. In many cases they had to apply for patents under the names of men or retreat into the background so that men could take credit for their work. In each article, Maggs highlights the dichotomy of what these women did and how they were acknowledged for their work."
— Sally Van Wert (W), MacDonald Book Shop, Estes Park, CO
View the List
Description
A fun and feminist look at forgotten women in science, technology, and beyond, from the bestselling author of THE FANGIRL'S GUIDE TO THE GALAXY
 
You may think you know women's history pretty well. But have you ever heard of. . .
 
·  Alice Ball, the chemist who developed an effective treatment for leprosy—only to have the credit taken by a man?
·  Mary Sherman Morgan, the rocket scientist whose liquid fuel compounds blasted the first U.S. satellite into orbit?
·  Huang Daopo, the inventor whose weaving technology revolutionized textile production in China—centuries before the cotton gin?
 
Smart women have always been able to achieve amazing things, even when the odds were stacked against them. In Wonder Women, author Sam Maggs tells the stories of the brilliant, brainy, and totally rad women in history who broke barriers as scientists, engineers, mathematicians, adventurers, and inventors. Plus, interviews with real-life women in STEM careers, an extensive bibliography, and a guide to women-centric science and technology organizations—all to show the many ways the geeky girls of today can help to build the future.
 
Table of Contents:
Women of Science
Women of Medicine
Women of Espionage
Women of Innovation
Women of Adventure
Praise For Wonder Women: 25 Innovators, Inventors, and Trailblazers Who Changed History…
"Wonder Women isn't just filled with extraordinary tales of female scientists and inventors – though there are plenty of them – [Maggs] also includes sections on espionage and adventure, fields not traditionally associated with STEM." – Entertainment Weekly
 
"I admire Maggs for making Wonder Women both thorough and easy to digest. When it comes to historical material like this, presentation matters…Maggs writes the descriptions of the women and their achievements in such a way that you're inspired to take the ball and keep running."–Nerdist 

"[Sam Maggs's] profiles are more than just fun, they're genuinely astounding…[and] fantastic illustrations by Sophia Foster-Dimino bring these pioneering women to life."—The Village Voice

"If you know a feminist, punk-rocking preteen who's as concerned with body piercings as she is with book reports, pick up a copy of Maggs's Wonder Women: 25 Innovators, Inventors, and Trailblazers Who Changed History, a compelling collection of profiles highlighting history's forgotten women of science, adventure, and espionage."—The Village Voice

"Maggs' lineup of influential females is well curated and inclusive, while smart illustrations by Sophia Foster-Dimino bring the ladies to life. Wonder Women is a must-read for the girl who's a bit of a geek."—BookPage

"A wonderful and necessary read. Although it says 25 women, there are so many more women in here than that… Not only does Maggs present their awesomeness with a sardonic wit needed to deride the patriarchal stage these fantastic women performed on, she is the gender defender at every turn. If only these brainiac ladies had Maggs by their side in their own time."–Geeks of Doom

"Wonder Women is an absolute delight! As told by Sam Maggs, the lives of these trailblazing women leap off the page, bursting with entertaining anecdotes and fascinating facts that are sure to capture the imaginations of younger readers. The fantastically diverse assortment of women profiled in this book is proof positive that women have always accomplished amazing things, and the interviews with contemporary women illuminate the extraordinary achievements women are making (and the extraordinary challenges women still face) today. As Maggs emphasizes in her introduction, representation matters, and Wonder Women is an inspiring example of exactly the kind of representation we need to see a lot more of."—Anita Sarkeesian, Feminist Frequency
 
"I honestly can't remember the last time I picked up a book and read straight through to the end without looking up. Each one of these baller women deserves their own shelf. Wonder Women is a must-read in my house and should be in yours, too."—Margaret Stohl, author of Beautiful Creatures
 
"Too often women in history—particularly in STEM fields—are ignored and forgotten. Not by Sam Maggs. Through brilliant writing that is both factual and fun, Sam pulls back the curtain of history to show us just how kickass these amazing wonder women are. Be smart like the ladies described in this book and grab a copy today!"—Beth Revis, author of Across the Universe and A World Without You

"Maggs's message--delivered in a snappy, girl-power tone--and her subjects--any one of whom could star in a book of her own--are timely and compelling."—Shelf Awareness 

"Maggs condenses these storied lives effectively, and young feminists and supporters of women in STEM will applaud."—Booklist

"In a down-to-earth and often humorous tone, Maggs provides a[n]…anthology of biographies on trailblazing women [that] is likely to draw attention from a variety of readers but will especially appeal to those interested in women's history and STEM…"—Library Journal

"Everybody's talking about women in STEM professions. Today, many women are making huge strides in sciences—but they're hardly the first. An informative study of women that have made history."—Library Journal

"Whether you want to know about suffragists, awesome historical lady ninjas, or the other butt kicking, trailblazing smarties in between, Wonder Women will have something for you!" –Amy Poehler's Smart Girls

"We could all stand to learn more about women in STEM fields, and Maggs', whose book The Fangirl's Guide to the Galaxy is a gem, is just the writer to lead the way."—Bustle 

"Odds are, you'll find your new hero in this book."—Bustle 

"History should be everyone's favorite subject, and if more people approached it (and wrote about it) like Maggs does, perhaps it would be."—PopMatters

"Embracing incredible women from all ages, of various races, and from different continents, the accounts of these extraordinary figures are spellbinding and inspirational."—Manhattan Book Review

"[Wonder Women] is a valuable addition to women's studies. Maggs successfully shows that women can perform as well as men if they are given an equal playing ground."—Washington Book Review

"These are incredible and inspirational true stories of women who dared to dream in a man's world. Additional, briefer vignettes of other notable and accomplished women round out this fascinating, educational 'must-have' for both school and public library collections."—Midwest Book Review

"For the young reader who needs a little Girl Power, Wonder Women by Sam Maggs is what you need."—Detroit Lakes Tribune

"[Wonder Women] is very inspirational…a fantastic read with beautiful illustrations."–BioGamer Girl

"This is a book about representation…more women are given the showcase they deserve…"–Anna Jedrziewksi, Retailing Insight 

"Between Foster-Dimino's wonderful illustrations and Maggs' research and writing, Wonder Women becomes an excellent resource for students as well as an enjoyable and easy read for casual readers. Audiences of any age and gender will find much to love and learn in Wonder Women and libraries both public and private aren't complete without it."—Women Write About Comics

"Wonder Women is one of those stories that fill you up with courage and strength. It's the kind of story that will make you believe that you can do anything."—Enchanted Readers

"This book is great not only for young girls, but anyone with dreams or aspirations to discover, invent and create in the different worlds of science, art, literature, mathematics and adventure."—Geek Hard
 
"...easy-to-read, hard-to-put down book."—Jade Magazine 

"…Wonder Women is a wonderfully informative and inspirational book, guaranteed to challenge what you thought you knew about women and their place in history. Whether you're just starting to look for your purpose or you're established in a career and a family, you'll find stories which will inspire you."—Fantasy Literature
Quirk Books, 9781594749254, 240pp.
Publication Date: October 4, 2016
About the Author
Sam Maggs is a best-selling writer of books, comics, and video games. She's a Senior Writer for Insomniac Games; the author of The Fangirl's Guide to the Galaxy, Wonder Women, and Girl Squads (Oct. 2018), all published by Quirk Books and distributed by Penguin Random House; a contributor to BioWare's highly-anticipated forthcoming game Anthem; and she's written for comics like Star Trek and Jem & The Holograms. A Canadian in Los Angeles, she misses Coffee Crisp and bagged milk.
 
Sophia Foster-Dimino is an illustrator and cartoonist whose work has appeared in the New Yorker, the New York Times, and on Google's homepage, among others. She graduated from the Rhode Island School of Design in 2010 with a BFA in illustration and likes comics, video games, biking, food, and zines.
1. In the introduction of Wonder Women, Sam Maggs talks about representation. What does representation mean to you? And do you share Maggs's view about the importance of representation in media and in our daily lives?
2. The innovators showcased in Wonder Women are diverse, but they also have some important traits in common. What do you think some of their commonalities are?
3. Maggs chose to tell the stories of women who were under-recognized for their achievements. Was there anyone in the book that you already knew of?
4. Which woman's story did you find the most fascinating?
5. Did you read anything in Wonder Women that surprised you or that stirred your emotions?
6. What lessons did you take away from the profiles of the modern day women working in STEM?
7. How do you think that you can help to bring better recognition to women in STEM and encourage younger generations to become more active in STEM-related fields?
8. If you had the opportunity to have a dinner party with three of the women profiled in Wonder Women, either living or dead, who would you choose? And why?
9. Are there any women that weren't profiled in this book that you think of as wonder women?