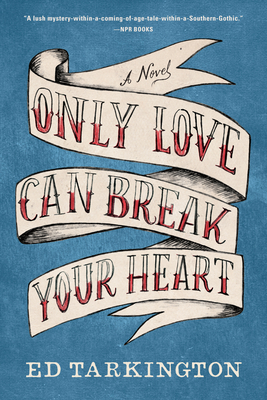 Only Love Can Break Your Heart
A Novel
Paperback

* Individual store prices may vary.
Other Editions of This Title:
CD-Audio (1/5/2016)
Compact Disc (1/5/2016)
MP3 CD (1/5/2016)
Compact Disc (1/5/2016)
Prebound (11/15/2016)
Hardcover, Large Print (4/6/2016)
Hardcover (1/5/2016)
Description
"A lush mystery-within-a-coming-of-age-tale-within-a-Southern-Gothic." —NPR Books

"A richly textured portrait of small-town dysfunction and murder . . . Secrets abound, imaginations run wild." —The Atlanta Journal-Constitution

Welcome to Spencerville, Virginia, 1977. Eight-year-old Rocky worships his older brother, Paul. Sixteen and full of rebel cool, Paul spends his days cruising in his Chevy Nova blasting Neil Young, cigarette dangling from his lips, arm slung around his beautiful, troubled girlfriend. Paul is happy to have his younger brother as his sidekick. Then one day, in an act of vengeance against their father, Paul picks up Rocky from school and nearly abandons him in the woods. Afterward, Paul disappears.

Seven years later, Rocky is a teenager himself. He hasn't forgotten being abandoned by his boyhood hero, but he's getting over it, with the help of the wealthy neighbors' daughter, ten years his senior, who has taken him as her lover. Unbeknownst to both of them, their affair will set in motion a course of events that rains catastrophe on both their families. After a mysterious double murder brings terror and suspicion to their small town, Rocky and his family must reckon with the past and find out how much forgiveness their hearts can hold.
Praise For Only Love Can Break Your Heart: A Novel…
Indie Next Pick
Indies Introduce Selection

"A lush mystery-within-a-coming-of-age-tale-within-a-Southern-Gothic. If a book could have an Instagram filter, Tarkington's would be set on something called 'Nostalgic' . . . interesting, readable and beautifully written."—NPR Books
 
"Tarkington's writing is talky, devoid of flash, and calls to mind a young Pat Conroy . . . propulsion is its primary attribute. Not mere plot propulsion—though there's plenty of that, especially after the corpses turn up—but emotional propulsion: Tarkington's fidelity to period and place is matched by his fidelity to human contradictions, to the gray area between heroism and villainy in which most of us reside. The gothic elements add spice, but the protein in this assured debut—the part that sticks to your ribs—is the beautiful but ever-threatened connection between Rocky and Paul. Only Love Can Break Your Heart is a novel about brotherhood, most of all, about the delicate fortress of that bond."—Garden & Gun
 
"Set against the backbeat of classic rock hits of the 1970s, Ed Tarkington's pitch-perfect first novel pays tribute to music, love and growing up in small-town America. That Tarkington throws in illicit sex, a perverted cult leader and a multiple murder only enhances the novel's hypnotic grip on its readers . . . This novel may be a murder mystery wrapped in the cloak of Southern Gothic charm but, at its essence, it's a novel about love. Love for the music that informed Tarkington's formative years and love for the familial and romantic relationships that can hurt as much as uplift us."—Chicago Tribune
 
"This heartbreakingly effective coming-of-age story about the importance of love in one's life is replete with moments of harsh cruelty and tender love. Beautifully written, it vividly brings to life its Southern characters, landscape, and small-town claustrophobia. Readers will stop and reread paragraphs, not because of confusion but for the pure joy of the language . . . Fans of Kathryn Stockett's The Help will embrace debut author Tarkington's depiction of Southern life at a time of changing social mores. Those who liked Daniel James Brown's The Boys in the Boat will also find much to appreciate here. Most of all, readers who can't get enough of Wiley Cash, Ron Rash, and Brian Panowich will delight in discovering this fine new writer."—Library Journal, starred review
 
"I've heard it said that all good fiction is about blood, love, or money. If that's true, then Ed Tarkington has hit the trifecta with his soulful first novel . . . plainspoken yet elegant prose, with a heavy dash of good old-fashioned storytelling . . . And if it's true that only love can break our hearts—as we're reminded often in these pages—Tarkington also makes the case that only love can put us back together again. You'll believe both things are true by the end of this novel."—Peter Geye, author of The Lighthouse Road, for the Minneapolis Star Tribune
 
"A coming-of-age story that evolves into a whodunit with tangled roots in three families whose lives collide in 1977 . . . [a] well-plotted, generous inquiry into the intricacies of the human heart — especially the broken variety . . . Secrets abound, imaginations run wild . . ."—Atlanta Journal Constitution
 
"A clear winner—a taut, engrossing, crisply written tale of loss and abiding love."— Charlotte Observer and the Raleigh News & Observer
 
 "This is a wonderful novel about a small Southern town and love within, and outside of, families. It is not a typical coming-of-age story."—Daily American (Somerset, PA)

"From beginning to end, the plotline is intense, never flagging. From the bleeding heart Tarkington stitches on Rocky's sleeve there arises both scandal and rivalry, along with a touch of the paranormal and religious faith." —Booklist
 
"Well-written and observed  . . . Tarkington carefully lays out his elaborate storyline and sensitively depicts his troubled characters." —Kirkus Reviews

 "A rich, moody, moving novel about growing up and growing old before your time. Tarkington's people are rakes, rascals, irascible losers, femme fatales, rich buffoons, dunderheads, beautiful loons, and one very cool dude, all balanced by the voice of a narrator you come to love as much as he loves his doomed older brother. On top of all that, it's a very fun, deeply satisfying, page-turner of a book."—Brad Watson, author of The Heaven of Mercury and Aliens in the Prime of Their Lives
Algonquin Books, 9781616205263, 336pp.
Publication Date: November 15, 2016
About the Author
Ed Tarkington's debut novel Only Love Can Break Your Heart was an ABA Indies Introduce selection, an Indie Next pick, a Book of the Month Club Main Selection, and a Southern Independent Booksellers Association bestseller. A regular contributor to Chapter16.org, his articles, essays, and stories have appeared in a variety of publications, including the Nashville Scene, Memphis Commercial Appeal, Knoxville News-Sentinel, and Lit Hub. He lives in Nashville, Tennessee.