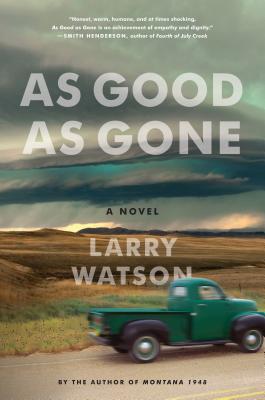 As Good as Gone
A Novel
Hardcover

* Individual store prices may vary.
Other Editions of This Title:
Paperback (6/13/2017)
Hardcover, Large Print (12/7/2016)
July 2016 Indie Next List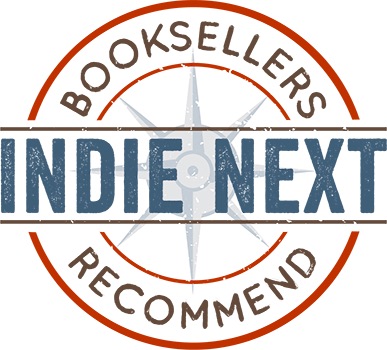 "After the death of his wife, Cal Sidey abandoned his children for the life of a solitary ranch hand in Montana. Years later, in 1963, his son Bill asks his father to return home to look after his grandchildren, while Bill tends to a family emergency. The powerful story of Cal's visit is a tragedy of narrowly missed moments as he attempts reentry into a world that no longer has any place for his old-fashioned and violent ways. The prose is clear and lovely, every character is strongly drawn, and Cal Sidey captured my heart while breaking it. Watson has given us a grand Western tragedy, spare and harrowing."
— Kathi Kirby (E), Powell's Books, Inc, Portland, OR
View the List
Description
"Honest, warm, humane, and at times shocking, As Good as Gone is an achievement of empathy and dignity." —Smith Henderson, author of Fourth of July Creek

Calvin Sidey is always ready to run, and it doesn't take much to set him in motion. As a young man, he ran from this block, from Gladstone, from Montana, from this country. From his family and the family business. He ran from sadness, and he ran from responsibility. If the gossip was true, he ran from the law.

It's 1963, and Calvin Sidey, one of the last of the old cowboys, has long ago left his family to live a life of self-reliance out on the prairie. He's been a mostly absentee father and grandfather until his estranged son asks him to stay with his grandchildren, Ann and Will, for a week while he and his wife are away. So Calvin agrees to return to the small town where he once was a mythic figure, to the very home he once abandoned.  

But trouble soon comes to the door when a boy's attentions to seventeen-year-old Ann become increasingly aggressive and a group of reckless kids portend danger for eleven-year-old Will. Calvin knows only one way to solve problems: the Old West way, in which scores are settled and ultimatums are issued and your gun is always loaded. And though he has a powerful effect on those around him--from the widowed neighbor who has fallen under his spell to Ann and Will, who see him as the man who brings a sudden and violent order to their lives--in the changing culture of the 1960s, Calvin isn't just a relic; he's a wild card, a danger to himself and those who love him.

In As Good as Gone, Larry Watson captures our longing for the Old West and its heroes, and he challenges our understanding of loyalty and justice. Both tough and tender, it is a stunning achievement.

 
Praise For As Good as Gone: A Novel…
"There's a plainspoken toughness to this writer—nothing of the lofty soliloquizing of Ivan Doig or the verbal dash of Thomas McGuane—that has led to him be overlooked in the large herd of fine Montana novelists. As Good As Gone is the latest of his books to forge satisfying drama from the intersection of Western mystique and middle-class reality. Mr. Watson points up some grubby truths behind the archetypal Western tale of the loner who comes to town and dispenses rough justice. It's typical of this thoughtful novelist that the ending of As Good As Gone is nuanced rather than explosive, and its traces of heroism are found not in violence but in a show of restraint."
—Sam Sacks, The Wall Street Journal
 
"…Watson evokes Big Sky Country as well as Montana writing legends like Ivan Doig, Jim Harrison and Norman Maclean. And like those authors, Watson is a naturally gifted storyteller, plainspoken and unpretentious. Watson is excellent at building suspense, and As Good as Gone is frequently exciting in a cinematic sense. (Just try not picturing Sam Elliott as Calvin Sidey.) …Watson is a generous writer, and his love of the West and the people who live there shines through."
—Michael Schaub, NPR.org
 
"In the virile, enigmatic character of Calvin, Watson both indulges in and reworks the romantic myth of the American cowboy in ways reminiscent of Edward Abbey's "The Brave Cowboy" or Larry McMurtry's "Horseman, Pass By." The wistful territory covered here will be familiar to Watson's fans. A repressed little town on the plains, uncomfortably poised between the old West and the new. Shameful secrets and penned up passions that flash like heat lighting on the horizon of a brooding sky. A master of spare, economical storytelling, Watson sweeps us up in a captivating family drama that departs as quickly as it came, leaving us gratified yet hungry for more."
—The Seattle Times

"Whether Watson is describing the inside of a 1952 Ford Tudor, a homey tree-lined street in Missoula, an afternoon branding a herd of cattle, or a pair of elderly strangers making love as spontaneously as a prairie thunderstorm dropping from the big sky, he writes evocatively and with great persuasion. This book is vintage Watson: laconic, dramatic and tough as a dry Montana stream bed."
—Minneapolis Star Tribune

A "beautifully written story. Author Larry Watson (Montana, 1948) is one of the West's finest novelists, and As Good As Gone proves it. …finely honed and written with compassion and understanding. As novels go, As Good As Gone is as good as it gets."
—Denver Post

"…a suspenseful and evocative novel with stunning prose, painting strongly drawn characters facing daunting emotional, social and family conflicts."
—Huffington Post

A "remarkable novel. It is like watching the sunrises over the prairies of Montana about which Watson writes so eloquently. But as with the reward of the lavender- and golden-hued sky to come, the ultimate effect of this novel is well worth the time spent watching."
—New York Journal of Books 

"Fans of Larry Watson (Montana 1948, Let Him Go) will recognize his mastery of foreshadowing in his 10th novel, As Good As Gone: here's an ordinary family in a nondescript small town, but something's simmering. And when it erupts, readers are in for a heart-pounding read. Watson keeps readers speculating until the end of this tense, fast-paced story of family drama as modern times clash with Old West mores."
—Shelf Awareness

 "The powerful story of Cal's visit is a tragedy of narrowly missed moments as he attempts re-entry into a world that no longer has any place for his old-fashioned and violent ways."
—The Columbus Dispatch
 
"[A] stunning novel…Having received numerous awards for his fiction, Watson (Montana 1948) is sure to win more praise for his powerful characterizations in the manner of Kent Haruf and Ivan Doig. Readers won't get a novel any better than this."
—Library Journal, starred

"From Montana 1948 (1993) through Let Him Go (2003), Watson has written rich, sometimes heartbreaking novels, often set in the middle of the twentieth century and featuring resolute men and women whose very strength of character—the product, to some extent, of contending with the forbidding if starkly beautiful landscapes of the American mountain states—has left them ill-equipped to deal with emotional turmoil. So it is for Calvin Sidey.... Calvin is trapped on a cultural and emotional fault line, the ground shifting beneath him as he realizes that the only tools he knows how to use won't unlock the secrets to life in a new world... . Fine writing in the grand western tradition of William Kittredge and Mark Spragg."
—Booklist, starred
 
Algonquin Books, 9781616205713, 352pp.
Publication Date: June 21, 2016
About the Author
Larry Watson grew up in Bismarck, North Dakota, and received his BA and MA from the University of North Dakota and his PhD in creative writing at the University of Utah. He has received grants and fellowships from the National Endowment for the Arts and the Wisconsin Arts Board. He is the author of the novels Let Him Go, Montana 1948, American Boy, In a Dark Time, White Crosses, Laura, Orchard, and Sundown, Yellow Moon; the fiction collection Justice; and the chapbook of poetry Leaving Dakota. Watson's fiction has been published in many foreign editions, and has received multiple prizes and awards from, among others, the Mountain and Plains Booksellers Association, the Mountain and Plains Library Association, the New York Public Library, and the Wisconsin Library Association, and he has been awarded the Critics' Choice Award and the High Plains Book Award. He has published short stories and poems in a range of journals. His essays and book reviews have appeared in the Los Angeles Times, the Washington Post, the Chicago Sun-Times, and the Milwaukee Journal-Sentinel. Watson taught at the University of Wisconsin-Stevens Point for twenty-five years before joining the faculty at Marquette University in 2003 as a visiting professor. He and his wife Susan live in Milwaukee, Wisconsin.
or
Not Currently Available for Direct Purchase