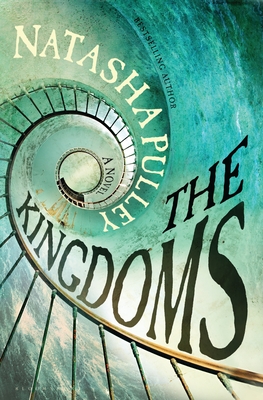 The Kingdoms
Hardcover

* Individual store prices may vary.
Description
For fans of The 7 ½ Deaths of Evelyn Hardcastle and David Mitchell, a genre bending, time twisting alternative history that asks whether it's worth changing the past to save the future, even if it costs you everyone you've ever loved.

Joe Tournier has a bad case of amnesia. His first memory is of stepping off a train in the nineteenth-century French colony of England. The only clue Joe has about his identity is a century-old postcard of a Scottish lighthouse that arrives in London the same month he does. Written in illegal English-instead of French-the postcard is signed only with the letter "M," but Joe is certain whoever wrote it knows him far better than he currently knows himself, and he's determined to find the writer. The search for M, though, will drive Joe from French-ruled London to rebel-owned Scotland and finally onto the battle ships of a lost empire's Royal Navy. In the process, Joe will remake history, and himself.

From bestselling author Natasha Pulley, The Kingdoms is an epic, wildly original novel that bends genre as easily as it twists time.
Praise For The Kingdoms…
"Pulley's latest genre-bending feat (after The Lost Future of Pepperharrow) masterfully combines history, speculative fiction, queer romance, and more into an unputdownable whole. . . This is a stunner." —Publishers Weekly, starred review

"Natasha Pulley's The Kingdoms is an intricate plot, for sure, but you get swept up in the narrative. If this sounds like the type of book you're drawn to - epic! time travel! history! - you know who you are." —Alma

"As scenes spiral back and forth between centuries, the book's emotional center crystallizes around a fundamental mystery: Who, in fact, is Joe? All time-travel plots are fraught with paradox, but not all rise to Pulley's level of tricky cleverness, and few of those trickily clever books rise to her level of emotional intensity. Suspenseful, philosophical, and inventive, this sparkling novel explores the power of memory and love." —Kirkus Reviews, starred review

"This story is not a mystery as we all expect, but a mystery of how people react to one another. Silver's approach to these characters is dynamic not in the relationship between the families as much as the relationships within the families. . . . The Mysteries is character driven, and the reader will get wrapped up in each character's purpose and the story's theme. A definite keeper." —New York Journal of Books

"Pulley balances the topsy-turvy nature of time travel by grounding her story in tidbits of naval history and a gradually unfolding queer love story." —BookPage

"Silver's latest novel is centered on the unusual friendship between two seven-year-old girls, named Miggy and Ellen. One is carefree, raging, and rowdy, while the other is cagy, wary, and observant. When the world's cruelty pierces the girls' bubble, Miggy and Ellen must come to terms with the vicissitudes of life." —Alta, "14 New Books for May"

"Immensely pleasurable reading... Intricate, charming and altogether surprising." —The New York Times Book Review on THE WATCHMAKER OF FILIGREE STREET

"An epic journey." —The New York Times Book Review on THE BEDLAM STACKS

"Phenomenal... Pulley's intricate plot, vibrant setting, entrancing magic, and dynamic ensemble of characters make for an un-put-downable historical fantasy." —Publishers Weekly, Starred Review for THE LOST FUTURE OF PEPPERHARROW
Bloomsbury Publishing, 9781635576085, 448pp.
Publication Date: May 25, 2021
About the Author
Natasha Pulley studied English Literature at Oxford University. After stints working at Waterstones as a bookseller, then at Cambridge University Press as a publishing assistant in the astronomy and maths departments, she did the Creative Writing MA at UEA. She later studied in Tokyo, where she lived on a scholarship from the Daiwa Anglo-Japanese Foundation. She was chosen to be a Writer in Residence at Gladstone's Library and is now associate lecturer at Bath Spa University and panel tutor at the Cambridge University Institute of Continuing Education. Her first novel, The Watchmaker of Filigree Street, was an international bestseller, won a Betty Trask Award and was shortlisted for the Authors' Club Best First Novel Award. The Bedlam Stacks is her second novel. She lives in Bath.

@natasha_pulley