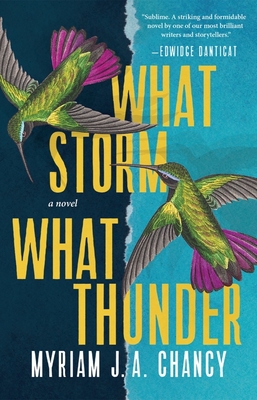 What Storm, What Thunder
Hardcover

* Individual store prices may vary.
Description
"Sublime. A striking and formidable novel by one of our most brilliant writers and storytellers."  —Edwidge Danticat
The earth had buckled and, in that movement, all that was not in its place fell upon the earth's children, upon the blameless as well as the guilty, without discrimination.
At the end of a long, sweltering day, as markets and businesses begin to close for the evening, an earthquake of 7.0 magnitude shakes the capital of Haiti, Port-au-Prince. Award-winning author Myriam J. A. Chancy masterfully charts the inner lives of the characters affected by the disaster—Richard, an expat and wealthy water-bottling executive with a secret daughter; the daughter, Anne, an architect who drafts affordable housing structures for a global NGO; a small-time drug trafficker, Leopold, who pines for a beautiful call girl; Sonia and her business partner, Dieudonné, who are followed by a man they believe is the vodou spirit of death; Didier, an emigrant musician who drives a taxi in Boston; Sara, a mother haunted by the ghosts of her children in an IDP camp; her husband, Olivier, an accountant forced to abandon the wife he loves; their son, Jonas, who haunts them both; and Ma Lou, the old woman selling produce in the market who remembers them all. Artfully weaving together these lives, witness is given to the desolation wreaked by nature and by man.
Brilliantly crafted, fiercely imagined, and deeply haunting,
What Storm, What Thunder
is a singular, stunning record, a reckoning of the heartbreaking trauma of disaster, and—at the same time—an unforgettable testimony to the tenacity of the human spirit.
Praise For What Storm, What Thunder…
Poignant.
— Poets & Writers

What Storm, What Thunder is a striking and formidable novel by one of our most brilliant writers and storytellers. Lending her voice to ten survivors whose lives were indelibly altered by the January 12, 2010 earthquake in Haiti, Myriam J. Chancy's sublime choral novel not only describes what it was like for her characters before, during, and after that heartrending day, she also powerfully guides us towards further reflection and healing.

— Edwidge Danticat, author of Everything Inside

In captivating and lyrical prose, Myriam J. A. Chancy brings the story of the Haiti earthquake to life, highlighting the profound ways our connections are deepened by tragedy. Twelve is a beautiful, haunting chorus of voices. This is a heartbreaking book, a striking achievement.
— Zinzi Clemmons, author of What We Lose

Myriam Chancy has written a gorgeous and compulsively readable, page-turner in the most haunting and stunning prose. This novel is exactly what we need during this time of uncertainty and crisis. Twelve's characters reveal to us how to bend and not break when facing loss, grief, and displacement. If you love the works of Jesmyn Ward, Edwidge Danticat and J.M Coetzee, this is the book for you! Absolutely breathtaking!
— Angie Cruz, author of Dominicana

Myriam Chancy is a masterful writer. Twelve is an ecstatic collage of grief in the aftermath of the Haitian earthquake of 2010. The book is devastating and tender, but it is not a spectacle of sadness -- it is a show of humanity and care in the midst of great violence. Though there is much pain in the novel, Chancy reminds us through her careful narration that none of her characters ever went unloved.
— José Olivarez, author of Citizen Illegal

Twelve refracts the tragic events of the 2010 Haitian earthquake through multiple perspectives and voices. The result is an affecting and immersive—an important—book.
— Dan Vyleta, Scotiabank Giller Prize-shortlisted author of The Crooked Maid, Smoke and Soot
Tin House Books, 9781951142766
Publication Date: October 5, 2021
About the Author
Myriam J. A. Chancy is a Haitian-Canadian-American writer, the HBA Chair in the Humanities at Scripps College in Claremont, California, and a Fellow of the John Simon Guggenheim Memorial Foundation.
or
Not Currently Available for Direct Purchase